Silver lining of a 'no deal' may be work on expanding ports and new warehousing for stockpiling goods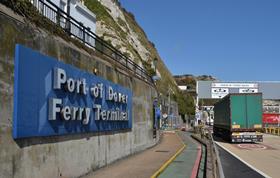 The Construction Products Association has slashed its forecasts for the industry's output in the next two years, pointing the finger of blame squarely at uncertainty around Brexit.
Six months ago, the CPA forecast that construction output would rise by 2.3% during 2019 but in gloomy new winter forecasts this positive outlook has collapsed, with activity expected to increase by a mere 0.3%, rising to 1.6% next year.
With companies putting off investment decisions until greater certainty around the post-Brexit economic landscape emerged, the CPA said office construction was forecast to slump by a fifth this year – versus a previously-forecast fall of 10% – and a further 2% dip in 2020.
Retail construction is also expected to fall in 2019, down 4%, and remain flat next year.
And while infrastructure was also likely to rise by nearly 9% this year and 7% in 2020, benefitting from a number of large-scale projects such as HS2, the Thames Tideway and Hinkley Point C, there were concerns around the government's ability to deliver major schemes on time, including Crossrail and the recent mothballing of the multi-billion pound Wylfa nuclear plant in north Wales.
The ray of light continued to be housebuilding, particularly in the private sector. The government's Help To Buy scheme, now extended until 2023, was helping to bolster activity, the CPA said, with private housing starts expected to rise by 2% this year and 1% in 2020.
There may be a silver lining of sorts in the form of work being done to expand and improve the UK's ports including Dover (pictured) because of Brexit, while a knock-on effect of a 'no deal' Brexit could be increased demand for storage and warehousing facilities for stockpiling essential goods, the CPA said.
While making for grim reading, the CPA admitted its latest forecasts were dependent on a revised Brexit deal being agreed with the EU and being passed by MPs or delaying Article 50, the mechanism for leaving the EU, until beyond the current date of 29 March.
Noble Francis, the association's economics director, said: "Even if this occurs, the uncertainty surrounding Brexit is clearly affecting the construction industry in areas that require high investment up front for a long term rate of return such as commercial offices."
Infrastructure was still expected to be the main driver of construction activity in both 2019 and 2020 and if the government could improve its delivery of major infrastructure projects then construction output could outperform the CPA's forecasts in spite of Brexit uncertainty, Francis said.