June board minutes lay bare railway's frustration with Costain and Skanska on late-running station
Crossrail's frustration with the two firms behind its hugely delayed Bond Street station has broken out into the open with the railway's board calling for "expected and necessary" leadership changes at the Costain/Skanska joint venture building the scheme.
The station is so far behind schedule that earlier this year, Crossrail chief executive Mark Wild was forced to admit it would not be ready even for the revised opening schedule – set for between October next year and March 2021.
Instead, it will open at an unspecified date after March 2021 with Wild saying last month the job was being flooded with resources.
Earlier this month, Building revealed that more than 500 workers were still working on the station with the site working 24 hours a day as Crossrail scrambles to get it finished enough to start trial running trains through it by early next year.
But recently published minutes from the June meeting of Crossrail's board, held on 20 June, publicly reveal the escalating tensions between the railway and the Costain/Skanska joint venture known as CSJV.
Referring to the recent change of chief executive at Costain the month before, where the retiring Andrew Wyllie was replaced by Alex Vaughan, the papers added: "The board noted that further change in leadership within CSJV was necessary and expected."
It declined to spell out what these were but the minutes do reveal Crossrail has brought in a new project team consisting of a senior project manager, senior commercial manager and senior construction manager. A principal delivery engineer also started in the last week of June.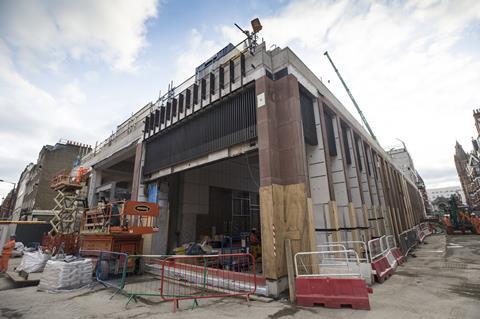 A Crossrail spokesperson said the rejig and extra resources Wild referred to were to make sure "Bond Street reaches a sufficient level of readiness to support the start of trial running in the first quarter of 2020".
He added: "To drive forward completion of the works, Crossrail Ltd and contractor Costain Skanksa Joint Venture has put in place new project management teams along with additional resourcing."
The minutes also revealed other measures had been introduced to try and get the Bond Street project back on track with the railway expressing worries about productivity at the site.
They said: "An enabling board had also been established to facilitate progress and remove challenges.
"Other changes had also been made to address concerns around productivity, project controls and to respond to escalated issues."
Costain and Skanska both declined to comment.