Board admitted it would miss 2021 opening date last month
Crossrail has confirmed the cost of finishing the project will top £19bn and the line will not be ready until the first half of 2022.
This delay means the scheme , known as the Elizabeth line, will open more than three years after its original scheduled opening date of December 2018.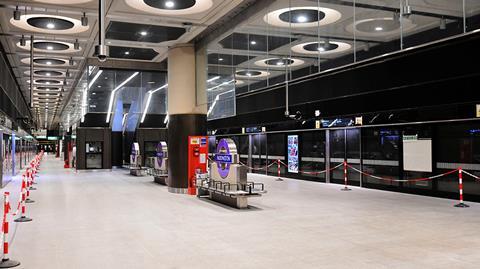 The Crossrail board yesterday met to discuss the latest update from the leadership team following last month's announcement that the central section would not open next summer as planned.
The latest opening date for the section, running between Paddington in the west and Abbey Wood in the east, is that it will now be ready in the first half of 2022.
Ten months ago, the railway's bosses said the job would need an extra £400m to £650m to get it finished taking the cost to more than £18bn but an extra £1.1bn is now needed meaning the cost, which was £15.4bn two years ago, will have topped £19bn by the time it is complete. Crossrail said work was ongoing to finalise the cost estimates.
Explaining the latest delay, the board said existing pressures on the schedule had been compounded by this year's covid-19 pandemic adding to problems caused by getting stations ready as well as issues with the routeway.
The board said: "We have had lower than planned productivity in the final completion and handover of the shafts and portals. The shafts and portals form a critical part of the routeway and contain many of the complex operating systems for the Elizabeth line.
"As more detailed plans for the completion and handover of the ten central section stations have developed, we have revised our previous schedule assumptions about the pace at which these large and complex stations can be handed over to TfL."
The impact of the virus had slowed down productivity because of social distancing protocols, with the number of workers on site down as a result.
It said it is ramping up activity this month and next to make up for lost time ahead of beginning intensive operational testing, known as trial running, in early 2021.
It is due to begin testing the signalling software next month ahead of the trial running phase.
The line announced it would miss its first opening deadline in August 2018, pushing it back to the following year before having to revise it to an opening window of between October this year and next March. But earlier this year, this was delayed again to next summer.