Work on scheme is due to finish in 2022
The government and Transport for London have finally reached a deal to finance the completion of Crossrail – with the former coughing up another £825m to get the project finished.
In November last year, the railway's bosses said the job would need an extra £400m to £650m to get it finished taking the cost to more than £18bn.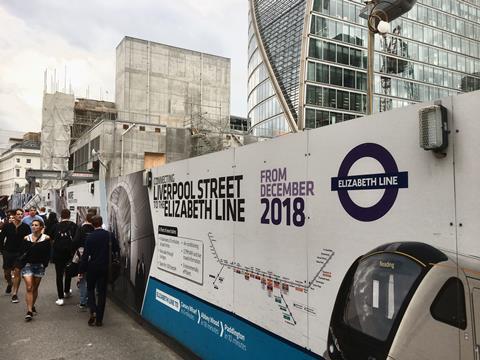 In August, Crossrail revealed it was likely to need another £500m on top of that, meaning the project's cost would top £19bn.
But now it has been handed £825m, less than the £1.1bn it was looking for, following protracted negotiations between London mayor Sadiq Khan, TfL, the Department for Transport (DfT) and the Treasury, bringing the likely total cost to around £18.6bn.
The shortfall will initially be covered by the Greater London Authority borrowing up to £825m from the DfT which will be given by the GLA to TfL as a grant.
The GLA will repay this loan from Business Rate Supplement and Mayoral Community Infrastructure Levy revenues.
But Khan said the deal that had been agreed was unfair on the coffers of the capital.
He said: "The government has insisted London must pay the shortfall – despite the overwhelming majority of the tax income that will result from Crossrail going to the Treasury.
"This is another example of London supporting the country way over and above the help we get from this government. I do not want this project to be stalled so it is vital that we dig deep to get the railway up and running."
The funding has come just in time, with TfL commissioner Andy Byford writing to the DfT less than two weeks ago to say Crossrail would be forced to down tools on the project if a deal was not reached immediately as it had run out of money.
Crossrail announced in the summer that it expected the project to open through central London in the first half of 2022. It was originally due to open three years ago this month.