The £15bn Crossrail line will be extended to Reading and Twyford, using existing lines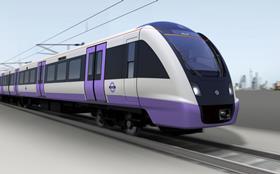 The £15bn Crossrail line will be extended to Reading and Twyford, although the move will involve only limited amount of new construction work.
The Department for Transport and Transport for London (TfL) said last week the western terminus of the east-west Crossrail route would be extended from Maidenhead, in Berkshire, to Twyford and Reading.
However, TfL said the extension would only require "minor" construction works as it woulduse existing tracks and stations.
The extension is set to be the final part of the Crossrail route to open, with completion scheduled in December 2019 and will see two train per hour leaving from Reading to London.
Rail minister Stephen Hammond said: "Crossrail reaching Reading … will improve connectivity and deliver greater choice and convenience for passengers travelling into London.
"It will also make better use of the already congested Great Western Main Line, freeing up capacity for further improvements including potential direct services from Reading to Heathrow as part of the western access scheme."
Hammond added he had also asked Network Rail to examine increasing the the number of faster trains between Reading and Paddington.
Mike Brown managing director of London Underground and London Rail, said: "Extending Crossrail to Reading will provide passengers with more journey options and will create better connections and direct services between Reading, Twyford and destinations across London without the need to interchange at Paddington.
"Crossrail will boost London's rail capacity by 10% by connecting Reading and Heathrow in the west with Shenfield and Abbey Wood in the east.
"Up to 24 trains an hour will run between Paddington and Whitechapel during peak times."
Crossrail route - scheduled completion dates
Liverpool Street to Shenfield - May 2017
Heathrow to Paddington (mainline platforms) - May 2018 (when the Crossrail concession takes over the Heathrow Connect service)
Paddington (Crossrail platforms) to Abbey Wood - December 2018
Paddington (Crossrail platforms) to Shenfield - May 2019
Full through service (including services to Reading) - December 2019