Consultant's report finds staff afraid to report health and safety incidents for fear of a "backlash"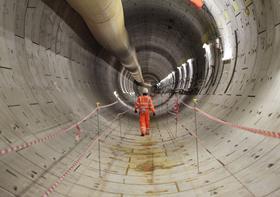 The relationship between Crossrail and major contractors including Balfour Beatty and Vinci has been "strained almost to breaking point" by a "negative spying culture" on site, according to a leaked report seen by Building.
The report was commissioned by the BBMV joint venture, consisting of Balfour Beatty, BeMo Tunnelling, Morgan Sindall and Vinci, which has contracts to deliver over £340m of tunnel and station work on the project.
The report, written in March 2013 by safety consultant Mind Safe, said that there was a perception among staff of "spying and underhand tactics" by the client to "catch them [the contractors] out at every turn" on health and safety.
It said staff on the project were "apprehensive" about reporting health and safety incidents for fear of a "backlash" from senior staff.
The consultant spent two days interviewing people at the Whitechapel and Finsbury Crossrail circus sites and in management roles and criticised Crossrail for "man-marking" its delivery partners.
It said this and other practices had left the relationship between the contractors and Crossrail "strained to breaking point".
It added: "A common theme throughout the visit surrounded the idea that the client was 'policing' the contractor."
Steve Murphy, general secretary of UCATT, said the report was "devastating" and showed "the appalling state of industrial relations at Crossrail" and that this was "placing workers in danger".
He added: "Crossrail and its major contractors need to provide urgent answers about how this climate of fear has arisen. The client and the contractors need to sit down with UCATT in order to ensure that morale and confidence is restored on the project to improve safety."
A spokesperson for BBMV said : "The draft report only contained contributions from a limited number of people and was not sufficient to give a true and accurate reflection of our Whitechapel and Finsbury Circus sites.
"Safety at all our sites is of paramount importance and it is essential that we have an accurate understanding of individual perceptions towards safety and where improvements can be made to ensure that we deliver our contribution to the Crossrail project to the highest standards of safety possible."
Steve Hails, Crossrail's health and safety director, said the project has a "good" health and safety record and "sets the most stringent contractor safety requirements in the industry".
"We require all our contractors to put in place honest and open reporting of all incidents however minor. Contractors are also evaluated on their workforce engagement. We're determined to drive up standards for the whole industry."
Key excerpts from the report
Client intention, reality and perception
"The intention of the client is to get the job done safely, on time and with a healthy financial position upon completion. This is the very nature of the industry. The reality is that the methods used on-site are almost entirely counterproductive to this."
Secret photographing/videoing of incidents as they unfold
"These acts have done more to damage morale and client perception than anything else. This negative spy culture is hard to understand and harder to justify. To actively watch people who may be in danger, photograph or video it and then email it around with unmasked glee is not the way to keep the project safe."
Client - management relations
"The communication culture is almost entirely based on what is wrong, who is to blame and how we can keep everyone in their place […] Individuals cannot move and work freely as they are constantly looking over their shoulders and in fear of reprisals."
Management - on site staff relations
"This relationship is fractured but repairable […] Some incidents, the workforce contends, are directly attributable to ill-preparation, under trained workers undertaking key roles without sufficient off-site training or site supervision."
Skills and competency
"There is a perception that inexperienced engineers and managers - not long out of academic studies – are trying to guide experienced skilful individuals with a "telling" approach on how the job is to be done. We know the inexperienced individuals are striving to do their best and apply their knowledge but some are lacking in their negotiation skills (which come with experience), but presently it is causing the experienced persons on-site some elements of frustration."
Visability and social contact
"Unfortunately, around 80% of the office staff have never been down the tunnel to see the reality.
"Supervisors, engineers and middle and upper management need to be more visible and active when it comes to interaction and knowing exactly what the reality is on site."
Bonus payments
"There were eight incidents in eight days over two sites and this coincided with the confusion over the bonus system. A link, or is it coincidence? Did this take the mind off the job at hand due to the way it was communicated?"
Incident reporting
"The reaction of people toward an incident is having a detrimental effect on the want or need to report back. The term "knee jerk" was used frequently. A perception at every level – when unplanned events occur, the backlash and negativity that follows is enormous and sometimes out of proportion with the nature of the event itself."