Development earmarked for new London rail link's south-east terminus
Plans for a 29-storey residential tower block next to Abbey Wood Station in south-east London have been lodged for approval with the Royal Borough of Greenwich.
The 208-home scheme, created by architect Shedkm for developer HUB and investor Bridges Ventures, comprises two buildings – the tower, which has a "shoulder block" rising to 15 storeys, and a separate a 10-storey block with a 90-bed hotel and some residential units.
It is designed to capitalise on Crossrail, which is due to start services in 2018 will have its south-eastern terminus at Abbey Wood which is currently being built by Balfour Beatty.
Shedkm director Alex Flint said the development – named Abbey Place – would be a visual marker for the area.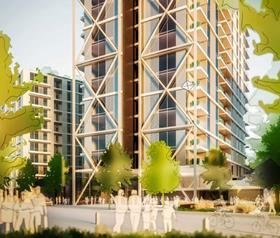 "Living spaces have been designed from the inside-out, maximising usable area through the elimination of corridors and efficient space planning," he said.
HUB said the scheme could start on site in summer 2017 depending on when Greenwich approved the planning application.
HUB and Bridges acquired the development site from U+I, the regeneration company formed from the merger of Development Securities and Cathedral Group, in December last year.
The site is the final phase of Abbey Wood's "Cross Quarter".