Scheme due to open in summer next year
Crossrail has admitted construction work at its most problematic stations will continue until the end of this year.
While the central section of the £18bn railway is on track to be "substantially complete" by the spring, it admitted: "[At] Bond Street and Whitechapel stations, work will continue until the end of 2020."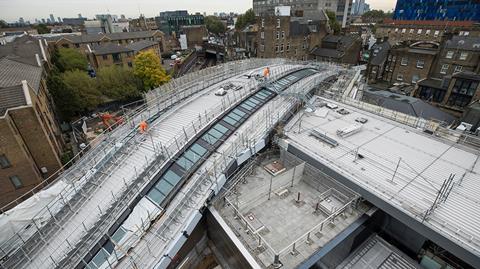 Documents published ahead of today's (Wednesday) meeting of the Transport for London (TfL) board said fit-out is nearing completion at many stations with all physical works "very nearly" finished in the tunnels, shafts and portals.
>> Explainer: How the Crossrail delay has unfolded
>> Also read: Crossrail more optimistic than TfL and says line will now open in summer next year
Crossrail said it has "increasing confidence" that Bond Street, being built by a Costain/Skanska joint venture, will be ready to open with the rest of the central section. Whitechapel is being completed by a team featuring Balfour Beatty, Morgan Sindall and Vinci.
Last year chief executive Mark Wild admitted the station would not be ready when the rest of the line was set to open which was scheduled to be between October this year and March next.
But earlier this month Crossrail announced it now plans to start running trains from Abbey Wood to Paddington in the summer of 2021 – two and a half years late.
The scheme had been due to open at the end of 2018 and this week a senior construction advisor to the government waded into the row over who knew what and when.
In 2017/18, the Infrastructure and Projects Authority (IPA) gave the scheme an amber rating meaning project delivery was in doubt and a year later upgraded this to red – meaning "successful delivery of the project seems to be unachievable".
Asked to explain why it had increased its rating in just 12 months, David Hancock, construction director at the IPA, said: "You can only work on the information that people give you."
Crossrail first announced it would miss its end of 2018 opening date in August that year with London mayor Sadiq Khan saying he only found shortly before the news became public.