MIPIM latest: Programme to deliver 1,000 homes on small sites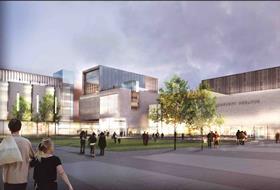 Croydon council's in-house development firm Brick by Brick has unveiled a target to deliver 1,000 homes across small sites in the south London suburb, worth a combined £250m over the next three years.
Brick by Brick chief executive and Croydon council director of development Colm Lacey told Building ahead of presenting the plans at this week's Mipim property conference in Cannes that the council is embarking on a major housebuilding push in order to deliver more affordable homes. Up to 50% of the planned homes will be affordable.
The council's housing pipeline could swell further if it succeeds in incorporating a number of larger sites into its programme – which could deliver up to 500 units apiece.
Lacey said: "We've got a massive housing need across both private and affordable tenures – particularly affordable – and it's not being met by the market as it delivers in a traditional way."
Brick by Brick is working with seven architects – HTA, Stitch, Mae, Pitman Tozer, Coffey, vPPR and Mikhail Riches – to develop planning applications for its small sites programme, which will be submitted by the end of the summer. Construction is expected to start in January next year, with completion for most sites by the end of 2018.
The council has also set up its own small internal architecture practice – comprising three architects – to help deliver its development programme.
Separately, the council is behind plans for the £750m regeneration of Croydon town centre, including the revamp of its Fairfield Halls concert hall (pictured). Plans for the scheme – which includes a purpose-built college, public spaces, restaurants and bars – were submitted earlier this month.
Rick Mather Architects has drawn up the plans, the first phase of which will see the new college and the refurbishment of 1,800-seat Fairfield Halls.