Plant a garden on one side of Blackfriars Bridge, says architect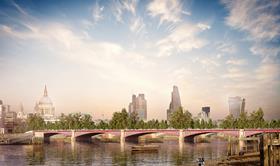 Allies & Morrison has proposed a cut-price version of the Garden Bridge - simply by planting trees on an existing road bridge.
The practice suggests reconfiguring Blackfriars Bridge so that traffic takes up just half the width, leaving 3,700sq m for flower beds, trees and footpaths.
Artur Carulla, a partner at Allies & Morrison, said the idea would cost a fraction of the £175 million Garden Bridge – because it does not involve building an actual bridge.
He was due to speak to Southwark council leader Peter John about the idea yesterday.
"Like every Londoner I've followed the Garden Bridge saga but when I looked at the website I discovered their mission statement makes no mention of a bridge at all," he said.
"Their vision is all about delivering a garden on top of the River Thames. The bridge is just the carrier of the vision, not the vision itself.
"It's the bridge that attracts all the criticism – over cost and procurement – which is a pity because there's some merit to the idea of having a garden over the river.
"Our proposal takes all the good bits of the Garden Bridge without the contentious bits."
Carulla is design lead for Southwark council's Blackfriars Mile project so is familiar with that bridge. By moving the new Cycle Superhighway and some road markings, a 14m-wide strip for gardens could be freed up, he said.
The cost "compares very favourably" with the price tag for building a new river crossing, he said.
And because it is nearer St Paul's – and right next to the Blackfriars station bridge – it wouldn't damage key views, he said.
He wants the "open source proposition" to move a "polarised" debate in a more constructive direction.
"It's good when the wider profession contributes to these debates," he said. "It's not an ego thing – there's not even a need for an architect. TfL would implement it with just a bit of landscaping advice."
It could be an alternative or an addition to the Garden Bridge, he said.