Second senior government figure to show support for making schemes part of UK's infrastructure programme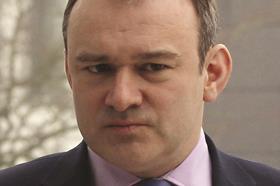 Liberal Democrat energy secretary Ed Davey has said that energy efficiency schemes should be part of the UK's "infrastructure programme".
This is the second time a senior government figure has shown support for making energy efficiency an infrastructure priority.
Lord Deighton, commercial secretary to the Treasury, told the Government Construction Summit in July that he was "seduced" by the idea of including energy efficiency in the UK's infrastructure plans after pressure from the industry.
Speaking at an event hosted by the Association for the Conservation of Energy on Tuesday, Davey said: "When we talk about infrastructure they are thinking of transmition lines, distribution lines and power plants. I think energy efficiency needs to be in the infrastructure programme in its own right."
Davey also said that he wanted to see regulations to drive energy efficiency work introduced after the next election.
He said: "I do not subscribe to the view that regulations are always a bad thing and indeed they can reduce costs."
Davey's speech came after the Liberal Democrats announced on Monday they would introduce a council tax cut of £100 a year for ten years for people who upgrade the energy efficiency of their homes.