Planning incentives designed to boost the supply of homes for first time buyers come into force today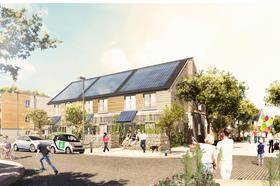 Prime minister David Cameron has doubled the government's target for developing 'starter homes' to 200,000 by 2020, as planning incentives designed to boost the supply of homes for first time buyers came into force this week.
Would-be home owners were invited to register their interest in buying a 'starter home' from Monday, via www.new-homes.co.uk/starter-homes.
Under the initiative, first floated by prime minister David Cameron at last year's Conservative party conference, housebuilders will be relieved from having to pay planning gain contributions on brownfield sites if they offer homes developed on them to first time buyers at 20% below the market price.
The government calculates the discount could save first time buyers around £100,000 per house.
Building on the first homes is expected to start within months, the government said.
A design panel, including Sir Terry Farrell and Sir Quinlan Terry, has been established to vet the design quality of the low cost new homes being developed under the initiative, and today the panel also published some recommended designs (one example pictured).
The initiative is backed by 16 volume housebuilders, including Barratt, Bellway and Persimmon, and 15 smaller builders and members of the Federation of Master Builders, as previously announced.
Melanie Leech, chief executive of the British Property Federation, said: "With an ever increasing housing shortage, it is crucial that measures such as this are put in place to bring forward homes of the right type, in the right places, to enable first time buyers to step onto the housing ladder.
"Given that government is already consulting on how to make it easier for developers to build on brownfield land, however, it will be interesting to see whether this initiative delivers as many homes as it has promised, as developing brownfield sites for market sale may well be preferable to some developers."
Brian Berry, chief executive of the FMB, said: "Moves to earmark brownfield sites for the delivery of custom built homes could significantly increase opportunities for small builders, leading to more homes and greater choice. We are pleased to see the Conservative Party taking important steps like these to support smaller builders. We hope that focus will continue and that these policies will draw the support they deserve."