Foster + Partners, Laing O'Rourke, Mott MacDonald, Arup, and Aecom among firms on PM's trade mission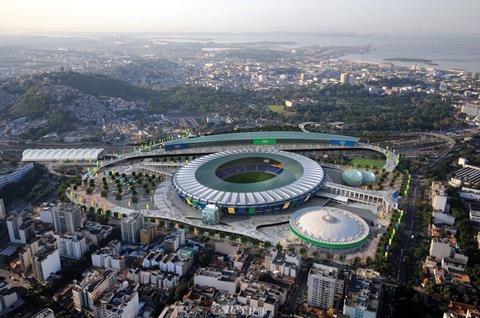 A clutch of big name UK construction firms have embarked on a trade mission to Brazil with prime minister David Cameron, Building can reveal.
Firms including Foster + Partners, Laing O'Rourke, Mott MacDonald, Arup, Aecom, Expedition Engineering, and Zaha Hadid Architects joined the prime minister on a trade mission to Brazil this week as part of a concerted effort by UK Trade & Investment (UKTI) to make the most of opportunities in the run-up to the 2014 World Cup and 2016 Rio Olympics.
Next month UKTI will lead another mission to the country, with firms including architects Foster + Partners and Avanti attending.
However, UK contractors have been warned not to expect a glut of work opportunities in Brazil, with industry figures claiming Brazilian construction firms have much of the expected work "sewn up".
Although Aecom is to design the Olympic Park and Arup is giving sustainability advice on the Olympic village, industry figures poured cold water on claims that UK contractors could expect to win work in Brazil on the back of their experience building the London 2012 Olympics.
Brazil has huge construction companies… There is naturally a push to keep the work

Mark Wainwright, Turner & Townsend
One senior figure with close ties to the Rio Olympics project said Brazilian contractors had the work "sewn up". He said: "The idea UK contractors will walk in and win the work is just unrealistic. It shows a lack of understanding of the market. Brazil has its own construction industry."
Mott MacDonald group chairman Keith Howell, who went to Brazil with the prime minister, said it would be "very difficult" for contractors to win work there. "I think the opportunities will be in design, consultancy - perhaps specialists - but for contractors it will not come easy," he said.
Mark Wainwright, managing director of Turner & Townsend's Latin America division, said the market was very difficult to break into for foreign firms, who needed an existing presence in the country, with local labour.
"For the very particular niche specialists, there may be opportunities, but there are huge construction companies in Brazil and there is, naturally, a push to keep the work within Brazil.
"Brazil wants to look after its own interests and develop its own economy so it's a case of 'our people first'."