Street protestors rail against sums spent on Olympic and World Cup building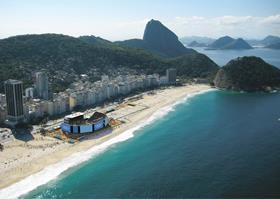 Mass protests in Brazil have been linked to the sums being spent on World Cup and Olympic construction.
Up to 200,000 people have marched through the streets of the country's largest cities in recent days including a huge demonstration on Monday which saw some 100,000 people marching through Rio de Janeiro and 65,000 in Sao Paulo.
According to the BBC, many have complained of the huge amounts spent on construction for the World Cup and the 2016 Olympics, which will be hosted by Rio.
The demonstrations have gathered pace as Brazil hosts the Confederations Cup, a curtain-raiser event for next year's football World Cup, with some violent protests spreading during protests yesterday in Sao Paulo.
"We need better education, hospitals and security, not billions spent on the World Cup," one mother who attended yesterday's Sao Paulo march with her daughter told the BBC.
But deputy sports minister Luis Fernandes insisted the World Cup had provided an opportunity for the country to invest in infrastructure which will benefit everyone.
"There is widespread support in the Brazilian population for the World Cup and the Confederations Cup," he said.
In her first public comments, Brazilian president Dilma Rousseff said she is proud of the protestors for demanding better education, schools and transport.
"My government is listening to the voices calling for change," she said.