A dozen consultants are to join the project to provide procurement and supply chain management services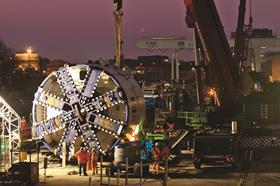 The Crossrail project is to benefit from the experience and expertise of 20 specialists who worked on the London 2012 Olympic Games.
A dozen Davis Langdon consultants who worked for the Olympic Delivery Authority's delivery partner CLM have been transferred to Crossrail to provide procurement and programme supply chain management services. They are joined by eight specialists from CLM.
John Mead and Peter Sell, directors in Davis Langdon's programme management team, are among those who have transferred. Sell is head of procurement operations and Mead is the principle programme supply chain manager.
Mead said: "On London 2012, we developed methods for engaging the supply chain and providing market intelligence. We also have visibility, post contract award, that gives the programme detailed knowledge on the critical elements of the supply chain down to tier three.
"The model was further developed for Crossrail, which was more easily achieved by not having to reinvent the wheel but redesign it slightly."
Sell added: "The Olympics offers a tried and tested procurement methodology that engages the best supply chain solutions to deliver the client's value requirements."