Department brought in to run rule over numbers as athletes village faces being scaled back
The government department responsible for the 2022 Commonwealth Games has been brought in as part of the review being carried out into the scheme's athletes village.
In February, Birmingham council said it would be forced to find more cash or scale back plans for the project.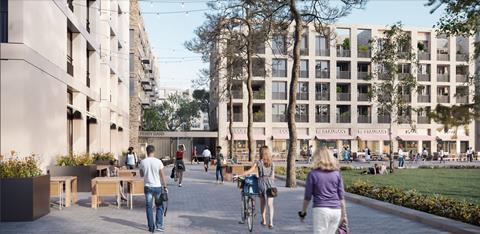 It said it was "no longer possible" to build the scheme to a previous budget of £492.6m or to "deliver the village in the way originally envisaged".
That was before the covid-19 crisis sent the industry into reverse with the pandemic heaping more pressure on the project.
The department for digital culture, media and sport is running the rule over costs and a spokesperson added: "As you would expect with any major project, we work very closely with our Games partners and keep all aspects of the Games under review as plans progress."
Building understands that areas of the athletes village site (pictured) in Perry Barr previously earmarked for homes have been pulled. One source said: "A plot we were bidding has fallen through."
A council spokesperson added: "We are fully committed to working with partners in our role leading on the delivery of the Perry Barr Residential Scheme (PBRS).
"However, we have to be mindful that the coronavirus pandemic will have an impact on all major construction projects globally, including the PBRS, but the exact and final impact of covid-19 obviously cannot be quantified at this time."
Lendlease is principal contractor on the village which will accommodate around 6,500 athletes and officials during the games and will later be turned into a mixed-use development featuring more than 1,100 homes.
The building packages on the job have been subbed out to a number of major contractors with both Willmott Dixon and Kier working at the site.
Meanwhile, work on the £60m deal to redevelop the Games' centrepiece Alexander Stadium has now begun.
The scheme started at the end of last month and is scheduled to finish in April 2022. Northern Irish firm McLaughlin & Harvey is carrying out the job.
Local firm DSM Demolition has completed enabling works at the site, which is also in the Perry Barr area of the city.
Arup is behind the redesign of the stadium, which will host all the games' athletics events, plus the opening and closing ceremonies. Mace is project manager on the scheme while Arcadis is the QS.
The revamp of the stadium, which is already home to governing body UK Athletics, will increase capacity from 12,700 to 40,000 for the duration of the event.
The work will increase the permanent capacity after the games to 18,000.