Investor Sager Group secures land deal with Royal Mail on mixed-use scheme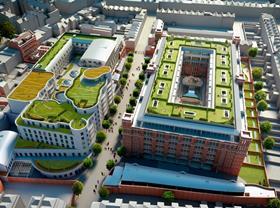 Property investor Sager Group has secured a land deal with the Royal Mail to unlock a £370m mixed-use scheme in Islington, north London
Royal Mail has agreed to vacate its Islington delivery office to make way for the major 500,000 sq ft Islington Square scheme, which will incorporate 356 residential units and 170,000 sq ft of retail and leisure space.
The Islington delivery office buildings will be incorporated into the overall Islington Square scheme, designed by architects CZWG.
The Royal Mail is relocating its delivery office to a new building on Eagle Wharf Road next to the Regent's Canal.
Sager's construction programme is expected to take 24 months, enabling retailers to open for Christmas 2016.
Giris Rabinovitch, chief executive of Sager Group, said: "This transaction marks a major milestone in the development of Islington Square which will become a landmark retail and leisure destination and a welcome addition to this thriving area of London.
"It has been more than a decade since acquiring the original site and we are delighted that we have succeeded in bringing this project to life."
The flats are expected to sell from £550,000 to penthouses of around £3.5m.
These will be a mixture of private, affordable and serviced apartments. The scheme will also include shoops, cafes, restaraunts, offices, a health club and a cinema.
The Royal Mail is cashing in on the development value of a number of delivery office sites across London as it relocates to cheaper sites.
The Royal Mail has attracted criticism for the planned redevelopment of half of its nearby Mount Pleasant sorting office in Clerkenwell into 683 homes.
Mayor of London Boris Johnson called in the planning application in January after the Royal Mail fell into disagreement with the local planning authorities of Islington and Camden.
Meanwhile, Royal Mail Estates won planning in January for an 8 to 21 storey residential tower scheme in Croydon, south London, on the site of one of its delivery offices, which is moving to another part of the town.