Developer Delancey is set to rebuild the iconic Elephant & Castle Shopping Centre after agreeing a deal to buy the site for £80m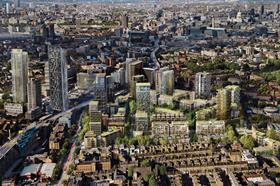 The deal, announced this morning, involves Key Property Investments, a 50/50 joint venture between St. Modwen and Salhia Real Estate, selling the Elephant & Castle Shopping Centre to a joint venture comprising Delancey and Dutch pension fund APG for £80m.
KPI acquired the Elephant & Castle Shopping Centre, a retail, leisure and office complex of 327,000 sq ft, in May 2002 for £29.25m.
But the joint venture had been under increasing pressure from Southwark council to get the redevelopment of the building, which is at the heart of the wider regeneration of Elephant castle (pictured), underway.
Delancey will now look at plans to rebuild the rundown shopping complex.
This purchase comes after Delancey rescued the stalled residential scheme, now known as Tribeca Square, between the Heygate Estate and the shopping centre, when it bought the site back in 2011.
The developer started work on the Tribeca residential scheme last month. The scheme includes towers of 24, 18 and 16 storeys and will include 262 homes, a 272-bed student residence, a large Sainsbury's supermarket and a four-screen cinema.
Jamie Ritblat, Delancey chief executive, said: "We are delighted to be continuing the delivery of a significant residential investment strategy in Elephant and Castle with such a high calibre partner as APG; particularly at a time, when the affordability of housing in London is an increasing concern.
"Combining an exceptionally well-connected Zone 1 location with Zone 3 pricing, Elephant & Castle is one of Europe's foremost regeneration projects, and represents a hugely exciting project for us to be moving forward."
Southwark council cabinet member for regeneration Fiona Colley said: "I welcome Delancey and APG's purchase of the shopping centre and very much look forward to working with them on our plans to provide a destination town centre.
"We have already publicly expressed our requirement for full demolition in order for this to happen and spoken about our aspirations for better pedestrian access to the stations and new market square and park.
"The council already has a good relationship with Delancey as we have a joint-working arrangement for the Tribeca Square site in Elephant and Castle so I hope we can quickly start consultation on a project with so much potential for local residents, businesses and those coming to the area."