Attitudes to homeworking have changed as lockdowns have gone on, developer behind string of London schemes adds
London developer Derwent has said offices will have less desks in the future, fewer people working in them and will need to be designed with more emphasis on employee wellbeing and mental health because of the impact of covid-19.
The pandemic has cleared the city's streets, closed shops and seen millions of office workers forced to work from home because of lockdown restrictions imposed last year and this.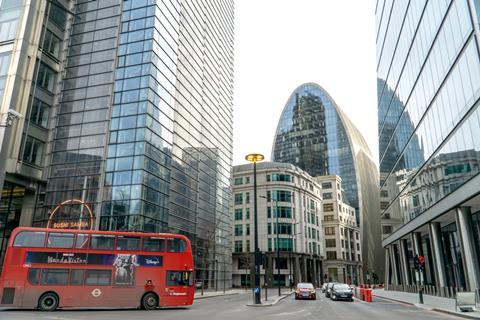 Derwent, which released its annual results yesterday, said take-up of London office space had halved last year with the developer quoting a CBRE report which said the 5.6m sq ft figure was down 57% on 2019.
It added that 4.7m sq ft of completed space was added to the London market last year, 66% of what was predicted.
But in his chief executive's review of the year, Paul Williams said a recent survey of its biggest tenants found that demand to return to the office was growing.
He said: "One clear message that came from the survey was that everyone asked was looking forward to getting back to the office.
"Attitudes appear to have changed the longer the lockdowns have continued, the rhetoric has shifted and more of our occupiers are highlighting the challenges they face from being away from the office."
Last June, Multiplex completed Derwent's £190m Charlotte St mixed-use scheme, which includes 321,000 sq ft of office space, with all that now let. Tenants at the Fitzrovia scheme include engineer Arup, management consultant Boston Consulting and law firm Lee & Thompson.
In its results, Derwent said it will begin building an office and retail scheme at 19-35 Baker Street in the second half of this year.
Williams added: "We are increasingly hearing business leaders recognising the value of the role offices play in supporting their culture, collaboration and growth. We also expect more people will work from home at least some of the time as businesses adopt more hybrid working practices. This is an acceleration of an existing trend seen prior to the pandemic."
But he said a recent survey of its tenants "found that all respondents were keen to return to their offices, views which appear to have strengthened since our previous survey in summer 2020. Collaboration, social interaction and employee wellbeing are high on the list of what occupiers missed most but levels of productivity and mentoring have been of increasing concern as remote working has persisted."
Derwent said that 82% of those surveyed will be taking up more agile working practices in the future, while 44% will be reducing overall office densities – meaning more space will be required for each individual.
He added: "We do believe businesses will adopt more agile working practices and, whilst we think this may reduce overall office demand to some degree, we do not believe the impact will be significant."
Williams said the reduced demand for new development will fuel "demand for better quality space and will continue to promote new activity".
Its current ongoing jobs include Laing O'Rourke's £195m Soho Place scheme at Tottenham Court Road and Skanska's £58m Featherstone Building at Old Street.
Last year Derwent said the pandemic sent it to an £83m pre-tax loss from a £280.6m profit last time.