London developer spent more than £400m last year buying up eight buildings
The value of Laing O'Rourke's deal to build a mixed-use scheme on London's Baker Street for Derwent has been confirmed at close to £160m, the developer said today.
Announcing its 2021 results, the firm said the deal at 19-35 Baker Street with O'Rourke, which beat remaining rival Sir Robert McAlpine, had been inked last month for £158.4m.
Erith began demolition work last October with its contract involving knocking down a series of existing buildings on Baker Street, George Street and Blandford Street.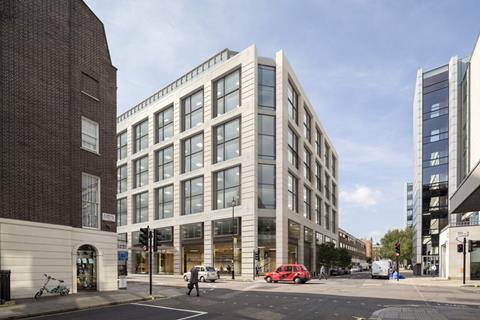 They will be replaced with a mixed-use scheme of around 297,000 sq ft which will include 52,000 sq ft of residential and 28,000 sq ft of retail along with office space.
Derwent, which specialises in London development, said the main building contract was in line with its budget and that "97% of [capital expenditure] on the office element is now fixed effectively mitigating our exposure to further build cost inflation". It said the whole scheme would cost it £266m.
The job was being developed in joint venture with the Portman Estate but in September Derwent paid just over £53m for its 45% stake. Derwent said it had signed a deal with Native Land to act as its development partner for the private residential slice of the scheme.
Designed by Hopkins Architects, other firms working on the job include QS Gardiner & Theobald, project manager Buro Four and structural consultant AKTII. Work is due to finish in 2025.
Meanwhile, Derwent chief executive Paul Williams said 2021 was its busiest for several years as confidence in the London office market began to return after the pandemic.
It said rent collection was close to pre-pandemic levels and Williams added: "Our buildings are getting busier. Hybrid working is here to stay but our occupiers are planning for peak occupancy as daily utilisation varies through the week. Tenants are increasingly demanding of their space, requiring it to fulfil multiple functions. Offices need to be design-led and amenity-rich, and able to adapt to a more agile workforce."
Derwent said it splashed out £417.5m on buying new buildings with several, including 230 Blackfriars Road and the current Moorfields Eye Hospital site on the City fringe, being deemed 'super sites' where it said "we see substantial uplifts in floor area when compared to the existing buildings".
It added that both its Soho Place and Featherstone Building schemes, being built by Laing O'Rourke and Skanska respectively, are due to complete in the first half of this year.
Derwent said income was down 10% to £240m last year but pre-tax profit returned to the black at £252.5m from an £83m loss in 2020.