Schemes have been designed by Piercy & Co
Piercy & Company has been given the green light for a pair of mixed-use schemes close to the BT Tower in Fitzrovia.
The two buildings are the latest in a string of projects the practice has designed for developer Derwent.
The larger scheme, known as the Network Building, will be located on a corner plot on Tottenham Court Road.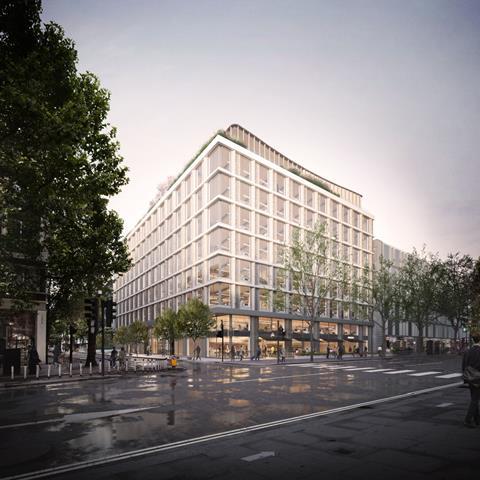 Camden council has given the new scheme a dual consent for it to be used as either offices or research laboratories.
The eight-storey building will include street-level retail, workspace and an upper level pavilion with terraces and green-roof areas.
It will provide a total of 190,000sq ft of workspace along with 5,000sq ft of retail, restaurant and cafe space.
The second scheme, a six-storey brick-faced building, is located around 200m away on Tottenham Mews, an alley leading off Tottenham Street.
It will provide 23 homes at social and intermediate rent, along with some affordable workspace.
Both buildings, which Derwent said would be net zero developments, will require the demolition of existing buildings dating from the 1950s and 1970s.
Derwent and Piercy & Co said both of the existing buildings were considered for re-use, but after "extensive investigation" they were deemed unfit for redevelopment due to their restricted ceiling heights and the inflexible structures and floorplates.
Other schemes the practice has designed for Derwent include the 2015 Turnmill building in Farringdon on a site formerly occupied by the Turnmills nightclub, which famously stayed open from 3am until 1pm on Sundays during the 1990s.
Meanwhile, a winner on Derwent's mixed-use scheme at Baker Street is expected to be appointed later this summer.
Sir Robert McAlpine is up against Laing O'Rourke for the deal which is believed to be worth around £100m. Erith has won the first stage of demolition work with Derwent hoping to begin work in earnest this autumn. Architect is Hopkins.