Developer said it has pre-let central London office space to three customers after the Brexit vote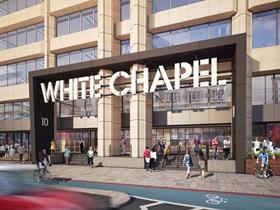 Derwent London has pre-let 84,600 sq ft to four new office customers at its £200m White Chapel Building despite the Brexit vote, the developer has announced.
The transactions represent 46% of phase one of the development, which comprises 185,000 sq ft of office space.
The offices in phase one are currently being refurbished and are expected to be finished by September this year. ISG is doing the fit-out of phase one.
Derwent said the rent is £4m a year, 8% above the estimated rental value at December 2015, and added that three of the new deals have been signed after the EU referendum.
The eight-storey White Chapel Building was acquired with vacant possession in December last year.
The refurbishment of phase one will include a new 7,000 sq ft reception area with an independent café, and an external terrace.
The developer said phase two will comprise mainly the lower ground floors with another 85,000 sq ft of office space, where work could start in 2017.
John Burns, chief executive of Derwent London, commented: "We are very pleased to introduce four new occupiers to our portfolio, three of which signed leases after the EU referendum.
"Their broad spread of activities and commitment is an endorsement of our strategy of creating a mid-market rental product in this significantly improved area on the eastern side of the City and the Tech Belt."