BDP has drawn up designs for biggest-ever extension to Sheffield mall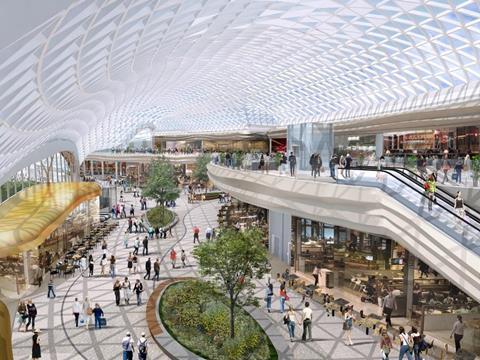 British Land has unveiled plans for the biggest ever extension to Sheffield's Meadowhall shopping mall.
Britain's biggest retail landlord wants to build a 330,000 sq ft Leisure Hall, the biggest single increase in floorspace at the the out-of-town shopping centre since it opened in the early 1990s. Once complete, the extension would lift Meadowhall back into the UK's top five shopping centres.
The new £300m hall, designed by BDP, will house restaurants, a café court on the ground floor, a gym, and other leisure space.
It will also feature a new cinema to replace Meadowhall's existing picture house in the Oasis Dining Quarter.
Housed under a glazed roof, the leisure hall will integrate with the existing centre to create a new multi-level, landscaped mall, big enough to accommodate large outdoor events including live music.
British Land is due to submit a detailed planning application for the scheme in the late summer following a consultation.
Subject to receiving approval, the company aims to start on site during 2018 and open to the public by late 2020 or early 2021.
British Land claims that the project will create over 1,000 jobs.
Charles Maudsley, head of retail and leisure for British Land, said: "This significant step change in the scheme's leisure provision will contribute to Sheffield's continuation as a driving force behind the Northern Powerhouse."
The plans will go on display at Meadowhall on June 3rd and 4th.