Budget: Industry criticises failure to provide short-term stimulus for smaller infrastructure projects or details on the 'how and when'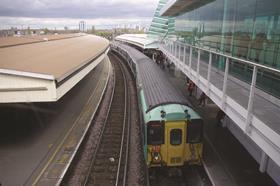 The construction industry reacted with disappointment to the chancellor's Budget, which provided little in the way of short-term support to boost infrastructure.
George Osborne did announce £3bn in extra annual capital investment, but the boost - funded through cuts to departmental budgets - won't happen until 2015, after the next election.
Osborne said the government would set out how the extra investment would be allocated in the 2015-16 spending review, to be unveiled in June, as part of a long-term capital investment plan.
However, Osborne did not provide any short-term stimulus with funding for smaller infrastructure projects, as many had called for.
The chancellor also failed to confirm any further projects would be underwritten through the £40bn UK Guarantees scheme, other than a guarantee of up to £75m to help raise finance for the partial conversion of the Drax coal-fired power station to biomass, which had been announced.
There was also no announcement over a finance deal for the £10bn Hinkley nuclear project, despite intense negotiations between EDF and Treasury in the lead up to the Budget over the "strike price" - the price that the government will guarantee EDF will receive for the energy generated by the power station - which is necessary to allow the scheme to go ahead.
Alasdair Reisner, Civil Engineering Contractors Association director of external affairs, said the chancellor had offered a "jam tomorrow" Budget that would "do little to boost growth through infrastructure provision before 2015".
Duncan Symonds, UK head of infrastructure at global consultancy WSP, said: "It's disappointing that the chancellor's recognition of infrastructure as the 'economic arteries' of this country wasn't backed up by more detail on the 'how' and 'when'. "