MPs and campaigners press for National Audit Office to review the government's nuclear 'strike price' negotiations with EDF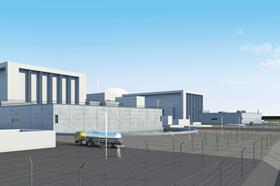 A group of MPs have written to the Sunday Telegraph to call for an urgent review of negotiations between EDF and the government over the price it can expect for electricity from its planned nuclear power plants.
To incentivise investment in building electricity plants the government has offered to enter into contracts with energy suppliers to guarantee the price they will get paid for the electricity they generate – known as the "strike price".
Under the scheme electricity firms have the price of their electricity topped up if the market price is below the strike price but the government claws back money if the market price is above the strike price. The contracts can last for decades.
EDF is the first firm to enter into negotiatians over such an agreement and an announcement had been expected by the end of March.
Now MPs, including deputy leader of the Liberal Democrats Simon Hughes, Conservative green campaigner Zac Goldsmith and Labour member of the energy select committee Alan Whitehead, have said the National Audit Office should conduct an urgent review of the negotiations.
In a letter to the Sunday Telegraph, signed by eight MPs and fifty campaigners and academics, they said: "Because of 'commercial confidentiality', there will be very limited parliamentary or public access to information about important details of these non-reviewable contracts.
"For negotiations with such important outcomes, we are concerned that these talks lack the necessary democratic accountability, fiscal and regulatory checks and balances."
This is the first time the National Audit Office has been asked to look into financial negotiations before the deal is signed, usually it only scrutinises government financial decisions retrospectively.
The letter said: "Normally contracts of this scale and length would include provision for re-negotiation as and when circumstances change - and we need to know how and when these triggers would initiate."
Among the academics and campaigners that signed the letter were Jonathan Porritt, founder of Forum for the Future, Andrew Warren, director of the Association for the Conservation of Energy and Jeremy Leggett, founder and chairman of Solarcentury.