Whitehall thinktank says private investment will be needed for public schemes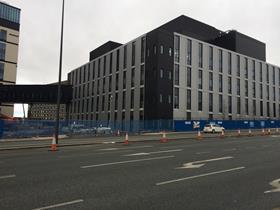 Carillion's collapse should not mean private firms should be shut out of public sector schemes to build and runs schools and hospitals, a Whitehall thinktank has warned.
The contractor's implosion put Private Finance Initiative and PPP schemes further under the spotlight with a number of schemes, including two hospital PFIs in Liverpool (pictured) and the West Midlands, now set to face further delays as a result.
Last autumn shadow chancellor John McDonnell told the Labour party conference that an incoming Labour government would bring PFI contracts back in-house.
But Nick Davies, associate director of the Institute for Government thinktank, told Building that, despite the political climate hardening against PFI, no incoming government would be able to rely purely on direct investment to finance its infrastructure goals.
He said: "Investment will have to come from somewhere. The evidence is that we are under-invested in critical infrastructure. Obviously [government] borrowing has been relatively cheap for some time but it's unclear whether that will stay the same."
Mark Elsey, partner at London law firm Ashurst, said it would not make sense for Labour to deprive itself of private investment.
He said: "There is a vast amount of private money prepared to invest in infrastructure, a huge shortage of public money and a clear demand to improve all aspects of our infrastructure. It seems odd to cut off that private source for political reasons."
And Martin Blaiklock, an independent consultant in PPP financing deals, said an incoming Labour government would have to use private money eventually to keep buildings built under the New Labour PFI boom up to scratch.
"We spent quite heavily on new assets in the first decade of the 2000s so the condition of the existing assets is not too bad. In the short term, there may not be too big a squeeze but in the long term you have to keep investing."