Housebuilder adopts "cautious approach" to land buying in recent months
Bellway has reduced its spending on land in certain parts of the UK pending the result of the country's protracted departure from the EU.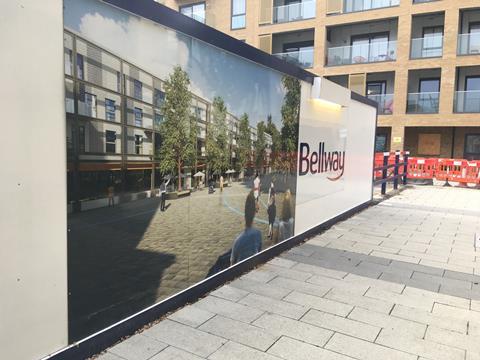 Announcing its half-year results, the housebuilder said that it had adopted what it called a "cautious approach" to land buying in recent months and temporarily slowed the rate of investment on a number of site acquisitions "pending the outcome of the UK's exit from the EU".
Bellway's chief executive Jason Honeyman told Building he'd wanted to "temper the enthusiasm" for buying land while uncertainty continued around Brexit.
"We wanted to look at the spring selling season, which is an important period for us. We'll do the minumum [land buying] we need but we're proceeding with caution," he added.
The firm had agreed to buy 5,980 plots in the first half, down 11% on the same time last year.
Despite this the firm stressed it had enough land in place, with planning permission, to deliver up to 500 more new homes in 2019, on top of the 10,307 it completed last year.
The group has a forward order book of £1.49bn, capable of delivering 5,724 homes, up 4%.
And while Brexit had a number of firms in a spin around the access to labour, Honeyman said it was "less an impediment, more a frustration" for his company.
Bellway was doing less work in central London, where EU workers were more prevalent, he said, while in outer lying areas the firm was able to draw on local workers from places like Kent and Essex.
Overall costs had risen 3% in the first six months of the year, although subcontractor cost increases were beginning to ease for certain trades in some parts of the country.
With the potential threat of building materials being held up at ports across the UK, Bellway said it had begun talks with key suppliers to "ensure that there is minimal short-term effect on the supply chain".
Average selling price for its homes in the first half was £239,800, up 7%, boosted by an increase in the average price of homes at the Nine Elms development in Vauxhall, south London, which rose from £562,285 to £828,528, and where completions more doubled to 125.
Turnover in the six months to the end of January 2019 was £1.49bn, up 12%, while pre-tax profit came in at £314m, up 9%.