Work on first homes at Kent site to start this year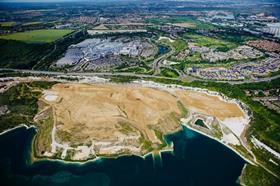 Work on a new section of Ebbsfleet Garden City in north Kent took a step closer to starting after a masterplan for the two new residential areas on the development were approved.
The Ebbsfleet Development Corporation (EDC) approved the plans, put together by PRP, which outline how the largest area on the site, formerly known as the Eastern Quarry, will host up to 4,600 homes, as well as 120,000m² of offices and 26,000m² of retail space, 35,000m² of hotel and leisure space and 50,000m² of community areas.
The area will be renamed Whitecliffe and feature two new villages, Ashmere and Alkerden.
Work on the homes is expected to start this year, according to an EDC spokesman.
Housing association Clarion and developer Countryside signed a joint venture deal last year to deliver up to 2,600 homes on the Ashmere scheme.
The 667-acre Ebbsfleet Garden City site is located on the north Kent coast, around 20 miles from London.
Outline planning permission is in place for a total of nearly 12,000 homes across the development.