The first roundtable discussion will be chaired by UK-GBC chief executive Julie Hirigoyen later this month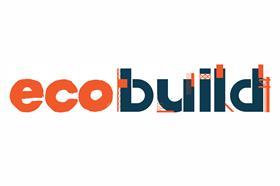 Ecobuild 2017 is launching with a series of roundtables to establish the construction industry's views on what sustainability means now and what its future role in the sector will be.
The first roundtable discussion will take place on 22 June and is being chaired by UK-GBC chief executive Julie Hirigoyen.
Built environment professionals are being asked to contribute to the discussion via the #SustainabilityIs campaign on Twitter.
Martin Hurn, brand director for Ecobuild, said: "We've seen the government withdraw financial incentives for green products and the renewables sector but that shouldn't affect our progress.
"We need a shared understanding of the sustainability drivers and objectives for every stage of the specification and supply chain. Then we can work together more effectively to deliver buildings and places that are energy efficient and enhance quality of life in a cost effective way.
"We're asking the industry to define a set of common sustainability goals for the future. I urge everybody to unite to help us do this. With over 33,000 professionals attending Ecobuild, it's the perfect platform for industry collaboration."
The roundtable panel will comprise high profile figures from housing organisations, local government, manufacturing and built environment sectors, including Diana Montgomery, chief executive at the Construction Products Association, and Munish Datta, head of facilities management and Plan A at M&S.
Hurn said the outcome of the #SustainabilityIs campaign will help shape Ecobuild 2017, which takes place 7-9 March at ExCel London, and help define an industry manifesto for sustainability which will be published following next year's event.
For more information, please visit: www.ecobuild.co.uk