Energetik will expand its existing network and and link up to the £1.2bn energy-from-waste facility at Edmonton Eco Park
An energy firm owned by Enfield council has been awarded £24m in government funding to build a low-carbon heat network in the borough.
Energetik will create two extensions to its existing heat network to connect more than 50,000 homes to the Edmonton Eco Park, a £1.2bn energy-from-waste facility currently under construction. The networks will be linked to the eco park via the upcoming Meridian Water energy centre, a facility being built at the site.
Once complete in 2026, the energy centre will connect to the North London Waste Authority Recovery Facility to deliver low-carbon heat to customers through a network of underground district heating pipes.
One extension will head north, linking the Meridian Water network with the existing Ponders End network. It will serve two new housing developments comprising more than 3,300 homes and the civic centre building in Enfield town centre.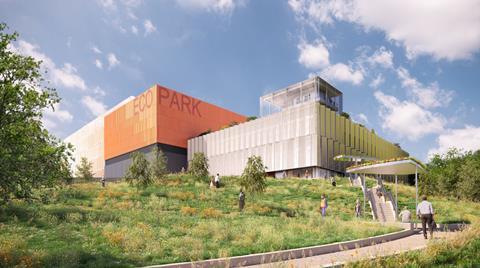 The second extension will head west towards the Arnos Grove network and then northwards towards the Oakwood network, connecting two care homes along the route.
The funding has been provided through the Heat Networks Investment Project, a £320m government scheme launched in 2018 to boost the number of low carbon heat networks in England and Wales.
Energetik also received £14m in funding from the scheme in 2020 for the construction of the Meridian heat network.
Jayne Clare, the firm's managing director, said the funding was an "immense step forward towards achieving Enfield's carbon goals".
She said: "The expansion of our low-carbon heat networks will provide the required infrastructure to unlock untapped potential and deliver maximum carbon savings across the borough."
The Edmonton Eco Park will divert up to 700,000 tonnes of waste from landfill each year to produce low-carbon energy.
Firms working on the project include Vinci subsidiary Taylor Woodrow, which has won a £100m infrastructure contract, and Buckingham, which was appointed to build a laydown area to the east of the site.