Firm says division is 'no longer required' at group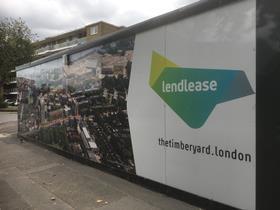 Lendlease saw group profit collapse in the first half with the firm blaming the slump on the poor performance of its Australian engineering and services businesses.
In the six months to 31 December 2018, the firm posted a pre-tax loss of A$31m (£17m), down from a A$624m (£342m) pre-tax profit in the previous year, the company said in a statement.
Revenue fell 11% during the period to A$7.7bn (£4.2bn).
Chief executive Steve McCann said a review of the business meant it was now non-core and that it was "no longer a required part of the group".
It said it was looking at "alternatives" for a business which is expected to see Lendlease shell out between up to A$550m (£274m) in the coming months on restructuring costs.
It said these will include employee and advisory costs as well as costs to finish customer contracts as a result of the group's decision.
The firm, which is carrying out building Google's new headquarters building at King's Cross as well as a new tower in Bishopsgate for Stanhope and a housing scheme in Deptford called the Timnberyard (pictured), said it has a $14.8bn (£8.1bn) order book of building work for the group.