Findings are based on a survey of 22,031 schools
Fixing all the capital estate defects in England's schools is expected to cost £11.4bn, almost double the previous estimate, the Department for Education has admitted.
The government has published the key findings from its condition data collection, which ran between 2017 and 2019 and covered 22,031 schools. The survey found that the average secondary school requires £1.6m of work, with schools in the East and West Midlands needing the most cash per school and square metre respectively.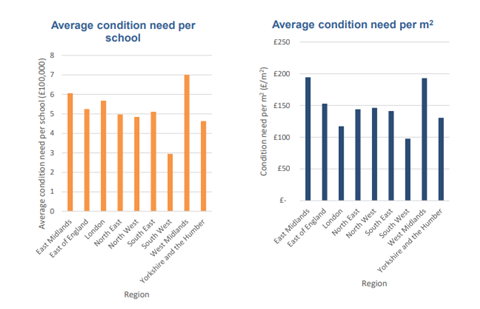 Schools in the West Midlands have the highest average condition need per school, estimated to cost more than £700,000 and the second highest condition need per square metre at a price of £193/m2. The only region with a higher condition need per square metre is the East Midlands, at £194/m2.
Most regions have similar condition needs throughout their schools, with the east of England, North-east, North-west, South-east and Yorkshire and the Humber all priced at between £130/m2 and £153/m2.
The regions with schools in the best condition are London, with £117/m2, and the South-west, with £98/m2. The latter is the only region where schools need less than £100/m2 spending on them.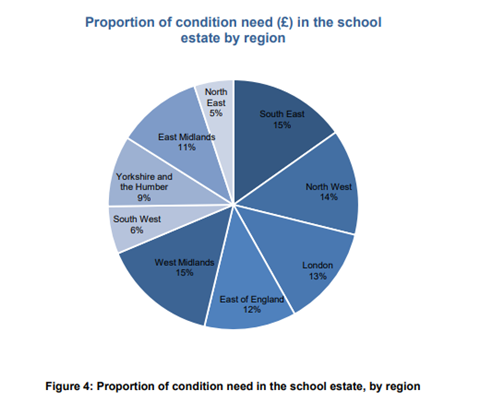 Overall, schools in the South-east and in the West Midlands need £1.7bn spending on them, the highest in the estate. Schools in the North-east require less than £600m in total, 5% of the total condition need in the estate. The proportion of England's schools located in the North-east is also 5%.
The overall capital spending required is well ahead of previous expectations. A 2017 National Audit Office report found the total backlog maintenance need in the school estate was £6.7bn. This was based on data collected from 2012-2014.
While this was calculated on a slightly different basis, the DfE said it demonstrated that overall condition of the estate had deteriorated significantly over the past six years.
While the repair bill is estimated at £11.4bn, the most recent spending review allocated just £1.8bn to repair and maintain school buildings this year. The DfE has nevertheless pledged to fully or partially rebuild 500 schools over the next decade.
Earlier this year Aecom, Faithful+Gould and RLB were appointed to carry out the DfE's next condition survey, which will look at England's entire school and FE college estate. The programme involves surveying at least 22,300 educational establishments from March 2021 to December 2025 and is one of the largest condition data collection exercises in the whole of the UK public sector.