Group's conservation director says 'complacency' risks destroying world-famous skyline
Architects and developers have been warned they risk threatening London's position as a place to visit if a host of towers planned for the capital get out of the ground.
English Heritage's planning and conservation director Nigel Barker said the people responsible for giving tall buildings the green light were in danger of destroying one of the reasons people come to see it.
"There is a complacency that says the historic environment will be there," he said. "People will always come and see it. They will always draw on it. We do not need to worry too much about it. Let us concentrate on the new stuff."
More than 230 towers of over 20 storeys are planned for the capital in the coming years and Barker warned: "The scale of transformation that is going on in London at the moment, I think could threaten the value of London as a place to come and visit, as a place to come and live… because we are creating different sorts of areas which do not actually say 'this is London'."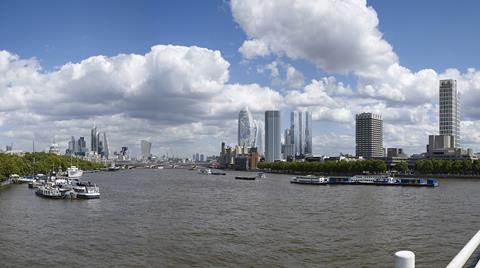 Barker said London's popularity as a tourist destination had accelerated since the Olympics in 2012. "We delivered an amazing Olympics. We are seeing the benefits of visitors coming to London [and] one of the attractions for the Olympics was the quality of the historic environment."
He admitted tall buildings such as Renzo Piano's Shard and Rafael Vinoly's Walkie Talkie were now part of the capital's heritage. "The minute they go up they have a value. Those values will be different for people from their different perspectives. Will the Walkie Talkie become a listed building? I would not bet on it."
In comments made to the GLA's planning committee earlier this month, he also singled out the recent decision to give the Shell Centre scheme the go-ahead.
"We should not be using, as we currently do and the Shell Centre decision is a classic case in point, claimed architectural quality as a justification for harm to existing character and value."
Barker's comments received some unlikely support from the City's former chief planning officer Peter Rees who said one of the reasons why tall buildings were being built in London was to attract overseas money – rather than meeting the housing needs of the capital.
"In most cases we are not building homes at all," he added. "We are trying to appeal to that [overseas] market because the one thing that does appeal in this international market is glitzy high-rise buildings."
Rees, who left his position at the City of London in April after 29 years, also questioned whether super-high towers made good residential blocks.
"It is fine for people who are rich enough to get out and escape. It is not so good for people who are on low incomes, stuck in a high building, feeling isolated.
"If you build developments of up to 10 storeys, people meet each other a lot more. They are in contact with the ground a lot more. They create community a lot more."
Source
This article first appeared on Building Design here.