Latest government data shows strong UK price rises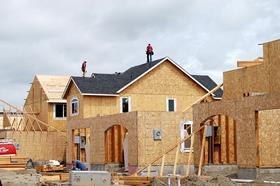 House prices in England have risen above their 2008 peak for the first time, according to the government data.
The figures, for July, show that the average price of a home in England was 0.9% above the January 2008 peak, and had risen by 3.7% in the previous 12 months.
This is up from the 3.3% increase recorded in June, and puts the average price of a home in England at £255,000. Rises were led once again by London, which raced ahead with a 9.7% year-on-year increase, and where the average house price hit £438,000 in the month.
Across the UK as a whole prices remained marginally below their peak, with a 3.3% increase being recorded in the 12 months to July. Rising prices in England and Northern Ireland were offset by falls in the year to July of 0.7% in Wales and 2% in Scotland.
David Brown, commercial director of LSL Property Services, said the strong house price growth was a "beacon of optimism" but that more homes needed to be built. "Having enough houses to go round is the only real way to keep prices from spiralling too far – and will be vital in creating a sustainable housing market that is accessible to all. The average first home is getting more expensive even faster than average prices – and until that changes thousands more households are turning to the advantages of the private rented sector instead."