EY revealed alternative liquidation process would have delivered creditors an extra 5p in the pound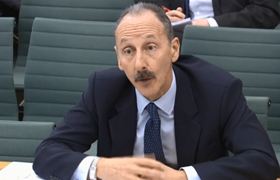 The Big Four accounting firm called in to help shape Carillion's future business plan following its July profit warning has revealed details of a plan that could have delivered creditors extra cash when the contractor collapsed.
Alan Bloom (pictured), a restructuring partner with EY, told MPs from the business and work and pensions Carillion's lenders had asked the firm to model two insolvency scenarios in the event they refused to fund the contractor's £360m business plan.
Speaking on the fourth day of the inquiry into Carillion's collapse, Bloom said: "The first one was a straight liquidation immediately, which would have yielded, according to the numbers that we produced, under 1p in the pound for unsecured creditors.
"They then asked us to model a version an enhanced liquidation model, which still would have been a liquidation. It would have essentially provided a two-week window and required £20m a week from some source or another to fund it."
Bloom said it would have provided a couple of weeks to do some distressed sale of properties, effectively a firesale that would have yielded 5p to 6p in the pound, which was "still a very poor return to creditors and certainly not an attractive outcome for anyone".
The EY partner said the £360m five-year business plan, which was presented to government and other financial stakeholders on 10 and 11 January, required full funding within the first year, with £140m necessary in the first four months of the year.
The firm admitted it advised the company to seek a bailout from government, but said it had also told management to seek funding from all other sources.
EY charged £13.1m for the work it carried out after the July profit warning and received £10.6m, with its last payment received on 12 January, just three days before the company went bust.
Labour MP Peter Kyle asked whether Carillion got £10.6m of value from EY's turnaround advice, considering the company had been forced into liquidation.
EY global restructuring leader Andrew Wollaston said it was his belief that it had, given that his company had identified £125m of cost savings. It was not up to EY to convince lenders to go along with the proposed business plan, he added.