Action was taken just days before the third anniversary of firm's collapse
Eight former Carillion directors face being banned from holding board positions for up to 15 years after the government launched legal action against them over the contractor's collapse.
According to the Financial Times, Kwasi Kwarteng, the new business secretary, started legal proceedings on Tuesday - just three days before the three-year anniversary of its collapse, which is the cut-off for bringing civil action against the former Carillion executives.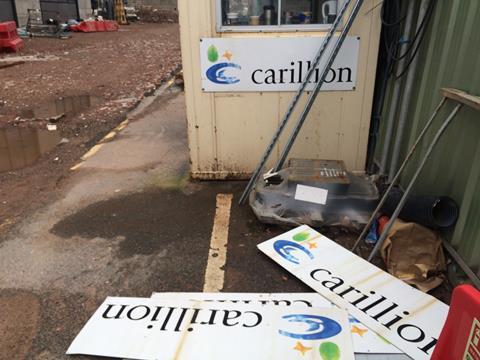 With Carillion collapsing on 15 January 2018 - the government had to decide by the end of the week whether it would launch proceedings.
The Insolvency Service said: "We can confirm that on 12 January 2021 the secretary of state issued company director disqualification proceedings in the public interest against eight directors and former directors of Carillion."
Among those facing bans are two former chief executives — Richard Howson, who was in the role from 2011 to 2017, and Keith Cochrane, a company director from 2015 who took over following Howson's departure, and Philip Green, its chairman from May 2014 until its catastrophic collapse.
Howson and Green have kept low profiles since the firm's demise, Cochrane is the chief executive of tech firm Schneck Process.
Finance directors Richard Adam, who held the role from 2007 to 2016, and Zafar Khan, who held the position for nine months in 2017, were also named in the letter. While Adam retired in December 2016, Khan is working as an independent consultant.
Non-executives Andrew Dougal, Alison Horner and Ceri Powell are also among the eight people facing sanctions.
> From the archive: How the contractor's collapse unfolded

> Analysis: Was the move to support services to blame for the troubles at Carillion?
Horner is currently the chief executive of Tesco's Asia business, while Powell has been Shell's managing director of Brunei Shell Petroleum since March 2017. Dougal retired in 2018.
The executives could be banned for between two and 15 years from being the director of a company or from forming or promoting a company in the UK or with connections to the UK.
Carillion, which had an annual turnover of £5bn and over 40,000 staff, went under with liabilities of £7bn and is considered one of the worst UK corporate failures in recent history.
A number of probes were launched after the firm's implosion, and in November the Financial Conduct Authority said it was planning to take action against a number of unnamed former directors.