Chair Philip Dilley tells Building flood could herald a "completely new experience" and that investment will be re-examined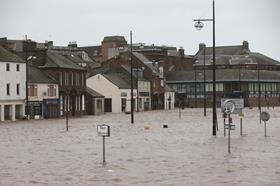 The devastating floods of the last month could herald a "completely new experience" for the UK, the head of the Environment Agency has told Building after the launch of a review of the UK's flood resilience commissioned by prime minister David Cameron.
Environment Agency chairman Philip Dilley said the agency's flood defence investment programme will be re-examined as part of the overall review, and admitted recent events have been more extreme than the agency predicted.
Speaking to Building ahead of giving evidence to the Environment Select Committee this week, Dilley said: "What's clear is the extremities of the weather have been beyond what we previously predicted. There's a new regime we need to think about."
He added: "The bigger question is whether or not this is a consequence of climate change. If indeed it is, this could be the start of a completely new experience. But at the moment, nobody knows."
Dilley said as well as considering the Environment Agency's investment, the overall review launched by prime minister David Cameron into flood defence spending will also look at whether traditional flood defences – typically built to withstand all but the type of flooding expected once in 100 years - are fit for purpose.
Dilley defended the current model, but admitted it will need to be looked at if - as expected - the UK experiences regular winter flooding.
He said: "Statistically that [one-in-100 approach works, but if what we are seeing is going to be a regular occurrence, then it needs to be reassessed. But that is what the review is about."
The flood defence review, led by cabinet minister Oliver Letwin, will see the government update its "worst-case scenario" planning, consider climate change impacts and carry out a risk assessment of critical infrastructure such as electricity substations.
Dilley's comments come after floods from Storms Desmond, Eva and Frank devastated large parts of northern England and Scotland in December (see map right) prompting widespread concerns over flood defence and maintenance spending.
The government responded by pledging a £40m package to rebuild and improve flood defences which failed in the aftermath of Storm Eva.
About £10m of the funding will be spent on the Foss Barrier in York, which failed on Boxing Day and flooded the city.
The remaining £30m will be spent on repairing defences on the Wharfe, Calder, Aire, Ouse and Derwent in Yorkshire, and will include repairs to pumping and barriers and clearing river blockage.
The government has been scrutinised over its level of flood spending, promising to spend £2.3bn over the next six years on flood defences.
However, this relies on £600m of external contributions, of which only £250m has been secured – and just £61m from the private sector – according to the Environment, Food and Rural Affairs Committee.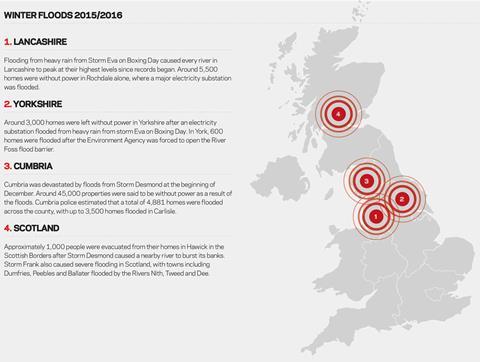 Can regular flooding be prevented?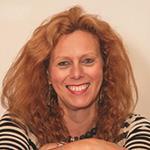 Sue Illman, owner, Illman Young Landscape Design, and CIC champion for flood mitigation and resilience
To date, everyone has been wrong in their estimate of how bad flooding can be. Many people are now talking about whole system or catchment planning and management, but it is equally depressing to still hear the uninformed shouting for "more dredging". There is no single answer, all professionals need to understand how these exceptional events can affect their property or works and know how to make them resilient for the future. Solving this problem needs money, but it also need time, thought, learning, team working and a consistent approach. The government has a major role to play with funding, a considered and clear plan, and strong leadership. We are all waiting.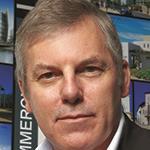 Peter Caplehorn, deputy chief executive and policy director, Construction Products Association
Clearly recent events have focused minds on flooding again. Climate change brings the prospect of ever more aggressive weather events. In the longer term strategic responses are needed. For the short term, there are materials products and construction techniques that can increase the level of resilience of new housing. This is about preserving architectural quality and balance wherever possible as well. For the here and now barriers at the perimeter of the property, barriers at doors and windows, services and finishes that are water resilient are available. They need to be applied in a structured and co-ordinated way. Perhaps a flood resilience SAP standard is needed.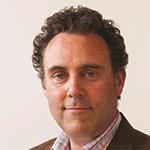 Will McBain, associate director, Arup
One thing is for sure - floods of a similar but different nature to "The Great Floods of December 2015" will happen again fairly soon. With an estimated 5.2 million properties in England alone at risk of flooding from one source or another this is sadly inevitable. The scope to eliminate these risks altogether is neither affordable nor achievable in a manner that society would find environmentally acceptable. But recent events reinforce the fact that investing in measures to better manage both the causes and consequences of flooding is money well spent.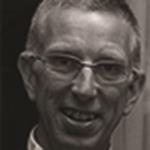 Steve Wilson, technical director, Environmental Protection Group
An excellent example [of the new kind of flood defence needed] is Pickering in North Yorkshire, which is a holistic flood defence scheme. They've looked at land management and natural impounding of smaller streams. They planted a load of trees, built a reservoir and held the water back in an area where it's not going to cause an issue. It's about that holistic version. This time around Pickering wasn't affected by the floods at all, and it cost a lot less to do that than just build a big wall. We've got to look outside this idea that we can just build bigger and higher flood defences.