SNP MP Angus MacNeil predicts Poles and Romanians will shun UK sites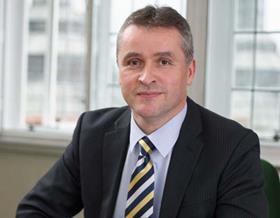 Eastern European construction workers will shun the UK industry because of low post-Brexit wages and a hardening "xenophobic attitude" from government, the House of Commons' chief scrutineer of international trade policy has warned.
Talking to Building, Angus MacNeil, the SNP MP who chairs the powerful international trade committee, argued the pound will badly weaken once Britain's 'divorce' from the European Union is finalised in 2019.
The pound has already fallen about 10% against the Euro since the UK voted to leave the bloc last June, meaning workers from other EU countries send home less money.
Much of the industry's post-referendum focus has been on how the government's rejection of the EU principle of freedom of movement could mean European workers will face strict immigration controls that will create vacancies on British construction sites.
RICS president Amanda Clack has warned that the "worst construction skills crisis in almost 20 years" will be deepened "if access to a skilled labour force is further restricted" while the Federation of Master Builders chief executive Brian Berry has argued "the free-flowing tap of migrant workers from Europe [must not be] turned off".
About 12% of British construction workers are from overseas, with building sites particularly reliant on Poles and Romanians who arrived following EU expansions in 2004 and 2007 respectively.
But MacNeil argued that even if a special deal could be brokered to allow EU construction workers to easily enter the UK they are likely to ply their labour in other European countries instead, adding that the weak pound will lead to a significant rise in the price of products like cement and steel.
He said: "I think Brexit will hurt the construction industry because building materials will become more expensive and the supply of labour will reduce, not least because of the xenophobic attitude of the government.
"In terms of labour, there are two reasons EU construction workers won't want to come to the UK. Firstly, it's financial: Brexit is going to result in a weaker pound meaning there is less incentive to come here in the first place. Secondly, it's the attitude."
MacNeil also warned that anti-immigrant hostility would put people off coming off.
He added: "Just because they speak a different language doesn't mean they can't think and express themselves in that language. They're not robots. The generic attitude emanating from the British Government and the tabloid press means they won't want to come over."
MacNeil's committee probes the work of international trade secretary Dr Liam Fox, one of the so-called 'three Brexiteers' – along with foreign secretary Boris Johnson and Brexit secretary David Davis – that prime minister Theresa May has entrusted with secession and shaping the UK's future overseas relations.