Business minister says transition to Green Deal meant there was always likely to be a hiatus in work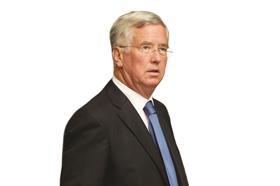 Job losses in the insulation industry were "inevitable" in the transition to the Green Deal, business minister Michael Fallon has said.
So far the insulation industry has lost over 4,000 jobs in what industry leaders have called the "chaotic" launch of the Green Deal.
Speaking to Building at Ecobuild this morning, Fallon said: "We've heard this morning of some installation companies that have had to lay off. That was inevitable in the switch from [the previous scheme] CERT to the Green Deal. That will pick up again now."
"It's inevitable when you switch from one scheme to the other that you get a hiatus of this kind," he added.
However he said sustainability will be at the heart of the government's industrial strategy for construction and that sustainability and growth were "two sides of the same coin".
The government is due to publish its industrial strategy for construction this summer and the Strategic Forum for Construction and the Green Construction Board are already consulting with the industry about what it should say.
Fallon said: "I can assure you now that green construction will lie at the heart of it."
"[Government will] set a course for this industry that will enable it to capitalise on the growth opportunities in sustainable construction."
Fallon said he saw the sustainable construction industry as a prime opportunity for the UK to export expertise. "The UK green sector is a success story," he said.
"It is the sixth largest in the world. Globally, the UK holds its own with the traditional innovation giants, such as Germany and Japan, as well as rising luminaries like India and Brazil.
"And it's clear from events such as Ecobuild that this country's green construction market is now not only firmly entrenched, but growing.
"If we couple this with our world beating expertise in 'game changing' technologies such as BIM, we have the tools we need to build our way towards a stronger economy."
Fallon also said the small and medium sized enterprises (SMEs) could expect more support in the forthcoming budget.
He said the government was particularly interested in leveraging the money in its Funding for Lending scheme into SMEs.