Fallon retains construction role, but takes energy brief as well after John Hayes moved from position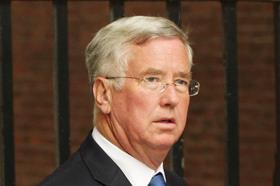 Construction minister Michael Fallon has been given a new role as the government's energy minister.
The news follows an announcement from 10 Downing Street that current energy minister John Hayes is to become the prime minister's senior parliamentary advisor.
Fallon will now have ministerial roles at two separate government departments, the Department of Energy and Climate Change (DECC) and the Department of Business, Innovation and Skills (BIS), where he is expected to retain all his current responsibilities including construction.
A DECC spokesman said: "As Number 10 has announced, John Hayes MP is to leave DECC to take up a new role as minister without portfolio (minister of state).
"Michael Fallon MP is to become Energy Minister, in addition to his current role as a Minister of State at the Department for Business, Innovation and Skills."
The spokesperson added that further details of the new arrangement are expected later today.
A spokesperson for BIS said: "We don't expect [Fallon] to lose his construction portfolio."
While at DECC, Hayes had repeatedly clashed with energy secretary Ed Davey over issues including wind farms.