Skylines scheme on Isle of Dogs recommended eight years after earlier plans rejected
Farrells is poised to secure planning permission for a huge mixed-use development in east London, the best part of a decade after an earlier scheme for the Isle of Dogs site was refused.
The development includes 589 homes, a new primary school with a rooftop games area, 10,000sq m of new business space, and around 2,200sq m of new retail and commercial space on a 1.44ha site currently occupied by the Skylines Business Village.
Farrells' scheme features residential towers of 49, 26 and 22 storeys, along with a 12-storey business centre. It will also provide podium-level public amenity space and basement parking for around 70 cars and more than 1,200 bicycles.
Other firms working on the scheme include services consultant Arup and structural engineer Expedition. Landscape architect is LDA Design.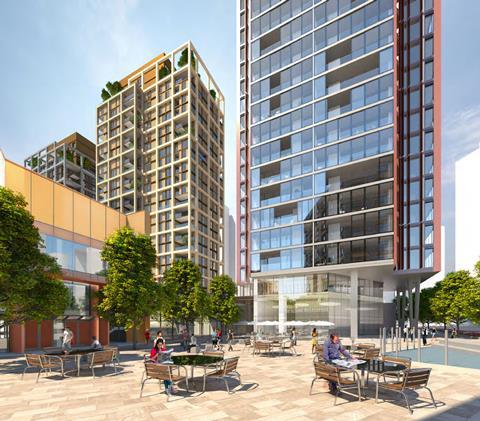 The practice was refused planning permission for a different scheme for the site – bounded by Marsh Wall and Limeharbour – in December 2010. It featured 806 homes, a hotel, new business space and a new community among other uses.
Tower Hamlets council rejected that scheme because of its "excessive height, scale and mass, together with its poor quality design". That scheme was drawn up for ZBV Skylines, a subsidiary of specialist brownfield regeneration expert Zog Group.
Planning officers are advising members of the borough's strategic development committee to approve the latest proposals, which have themselves been rejigged since they were originally submitted on behalf of developer Strong Drive in 2017.
They said the latest incarnation of the proposals – which have essentially cut two storeys from the tallest block in comparison with the 2017 scheme – would deliver a "high-quality residential-led mixed-use redevelopment" featuring 35% affordable housing.
"Heights, massing and design have been revised since submission and are appropriate given the site location and the surrounding context, providing a transition in scale within the site from the high-density development to the north to the lower-density residential properties to the south and east," they said in a report.
The document made reference to the recent approval at appeal of Make Architects' 225 Marsh Wall tower and the practice's under-construction 53-storey Meridian Gate development – also known as The Madison, both of which are nearby.