A short film about the architects and engineers that made the London 2012 Olympic games possible has premiered at Ecobuild today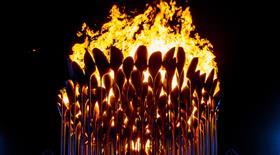 The film, put together by the RIBA, the Institution of Structural Engineers (ISE) and New London Architecture (NLA), is a celebration of the architectural and structural design expertise that went into the creation of the London 2012 venues.
The film comes after the success of Building's 2012 campaign - and the Drop The Ban campaign by RIBA, ISE and NLA - which saw the ban on Olympics firms from marketing their involvement lifted earlier this year.
The film, called Designing for Champions, screened for the first time at Ecobuild this morning.
It was was mainly filmed on location at the Olympic Park in September 2012 during the Paralympic Games and highlights one permanent and five temporary buildings and interviews their architects, structural engineers and designers including:
The Cauldron by Thomas Heatherwick - designer
Beatbox by Asif Khan architect and Paul Scott structural engineer of AKTII Structural and Civil Engineers
Soundforms, a mobile acoustic stage designed by Flanagan Lawrence (previously BFLS architects)
Basketball Arena by Jim Eyre of Wilkinson Eyre Architects and Matthew Ace of Fenton Holloway structural and civil engineers
London 2012 Velodrome with Mike Taylor Architect of Hopkins Architects and Andrew Weir of Expedition structural and civil engineers
RIBA President Angela Brady said:"I am delighted that we were able to access the Olympic Park site to make this film and to shout about the amazing contribution made by so many architects, structural engineers and design teams which created the most memorable, innovative and sustainable Olympics to date.
"The majority of the architects, structural engineers and designers featured in the film were gagged by a ridiculous marketing ban preventing them from promoting their work, and only recently lifted by the government six months after the Games started. I am delighted this film gives many key people the recognition they deserve.
Designing for Champions can be viewed at www.architecture.com