Formal permission given after Secretary of State decision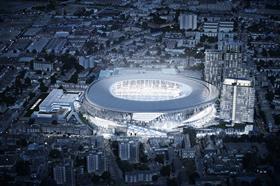 Tottenham Hotspur's £400m stadium redevelopment plans have moved forward after Haringey council gave permission for the scheme to go ahead.
The club said it would "now work with Haringey council in respect of finalising planning processes, public sector support for the surrounding environs and transport improvements that are essential to the deliverability of the scheme".
Haringey council gave the scheme the green light after the government informed the council it would not call in the planning application.
The news follows the mayor of London Boris Johnson's approval for the scheme back in February, which will see Tottenham Hotspur's home, White Hart Lane, turned into a 61,000-seat stadium.
The project team includes Mace as the main construction partner, cost consultant Arcadis and engineer Buro Happold.
Building work is already in progress on the site and it is hoped the new stadium will be ready in time for the 2018/19 season. Meanwhile the club is in negotiations to find a temporary home.
The project will also see around 600 new homes built, a 180-bed hotel, an extreme sports centre, a community health centre and a square for events.
The architect leading the design, Australian Christopher Lee, was also behind the design of the Emirates stadium, home of Spurs' north London rivals, Arsenal.
The stadium will have a retractable pitch allowing American football games to be played as well as soccer. The club signed a 10-year deal with the NFL to host at least two games a year from 2018.