Bond Street unlikely to be fully open when rest of central London service begins by June 2022, project leaders admit
The £18.9bn Crossrail project has passed a major milestone with the final stage of testing now underway.
The project's leadership team confirmed that the trial operations stage began on Saturday (20 November), the final phase of the programme before passenger services start running.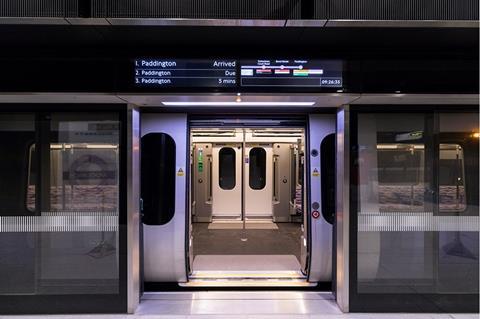 This is still expected to take place before June next year for services between Paddington and Abbey Wood.
The trial operations stage involves operational exercises to ensure the safety and reliability of the railway and to fully test the timetables.
More than 150 scenarios will be played out over the coming months, including exercises to make sure that all systems and procedures work effectively and staff can respond to any incidents, including customers becoming unwell or signal failures.
A series of more complex exercises in the new year will include evacuations of trains and stations using thousands of staff. The final step will see a period of "shadow running", operating timetabled services ahead of the line actually opening.
It will take several months to complete this final phase, with further software adjustments to the train and signalling and tunnel ventilation system set to take place in December and over the Christmas period.
>> Mark Wild interview: why Crossrail will be worth the wait
The railway, which was originally due to open in December 2018, is looking to open its central London section by May, according to recent reports.
The latest announcement comes a week after Crossrail bosses confirmed that there was no prospect of the line opening within the next two months. They told the London Assembly's transport committee that the opening window was now between "February and June" next year.
The prospect of Bond Street station being operational when central London services start is still in doubt. Andy Byford, the Transport for London commissioner, said he did not want Bond Street to delay the start of services and that he had asked staff to look into the possibility of a partial opening of the station.
He said: "Could we, should we, open with just one ticket hall, given that there won't be as many customers using the station as we first envisaged, because of the lingering impacts of covid?"
Earlier this year Crossrail chief executive Mark Wild told Building that he would not hold up the opening of the line just to ensure that Bond Street - which has now cost the project £680m - could be included in the initial service.