Move to ensure stability of fire-hit tower comes as death toll rises further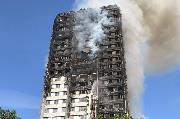 The London Fire Brigade has said its Urban Search and Rescue teams are to start work with local authority contractors to secure Grenfell Tower, as they attempt to make the structure safe following yesterday's devastating fire.
The number of deaths from the fire at 24-storey Grenfell Tower has risen to 17, the Metropolitan Police has confirmed, but expects the toll to rise.
The Met also confirmed that 37 people are still in hospital with 17 people are still in a critical condition. Around 60 firefighters and eight fire engines remain at Grenfell Tower this morning.
The cause of the fire is still not known and will be the subject of an thorough investigation, the fire brigade added.
Meanwhile, the director of the Twentieth Century Society has urged people not to condemn all tower blocks after the Grenfell Tower tragedy.
It is so often "poor maintenance and inadequately resourced management" that causes problems, not the fundamental design of tall buildings, Catherine Croft told Building's sister title BD.
But she called for more research and close scrutiny of fire protection measures to reassure residents of other blocks of flats.
In a statement she said: "C20 Society is shocked by the appalling loss of life and destruction of people's homes.
"This was not an architecturally distinguished tower block, but a typical example of a system built block, which nevertheless provided decent sized flats.
"C20 regularly sees blocks of this period blighted by poor maintenance and inadequately resourced management.
"It seems likely that such factors, as well as possible design or construction inadequacies with the recent refurbishment may have had tragic consequences.
"More research and tight regulation of fire protection measures is clearly necessary as soon as possible, to reassure everyone living in similar blocks, but the correct response is not to condemn all high rise living."
Meanwhile RIBA president Jane Duncan called for a swift public inquiry into the fire in the west London block which killed at least 12 people and injured many more.
She tweeted: "Fire & people safety is absolute top priority. There must be a prompt public enquiry to clarify how Grenfell Tower tragedy occured @RIBA"
Her call was backed by architect Walter Menteth who tweeted: "Many people are living today in recently refurbed high rise. Gov must set up inquiry immediately + also evaluate need 4 emergency measures."
Newly-elected Labour MP for the area Emma Dent Coad was at the scene yesterday. She tweeted a link to a crowdfunding site set up by a teacher at a local school: https://www.justgiving.com/crowdfunding/familiesofgrenfelltower, while the prime minister Theresea May visited Grenfell Tower this morning. The Queen has also paid tribute to the bravery of the emergency services and said her thoughts are with those affected by the incident.
Grenfell Tower had recently had refrubishment works carired out by contractor Rydon which included new windows and cladding, a new efficient communal heating system and bespoke smoke extract and ventilation system were fitted, completed last year.
The works, carried out by contractor Rydon and overseen by architecture practice Studio E, also included extensive remodelling of the bottom four floors, which created nine additional new homes and improved spaces for two local businesses. Harley Facades completed the installation of the new cladding in September 2016 according to a post on the firm's facebook page.
Rydon issued the following statement yesterday.
"We are shocked to hear of the devastating fire at Grenfell Tower and our immediate thoughts are with those that have been affected by the incident, their families, relatives and friends.
"Rydon completed a refurbishment of the building in the summer of 2016 for KCTMO (Kensington and Chelsea Tenant Management Organisation) on behalf of the Council, which met all required building control, fire regulation and health & safety standards. We will cooperate with the relevant authorities and emergency services and fully support their enquiries into the causes of this fire at the appropriate time.
"Given the ongoing nature of the incident and the tragic events overnight, it would be inappropriate for us to speculate or comment further at this stage."
The building is managed by Kensington and Chelsea Tenant Management Organisation (KCTMO) on behalf of the council.
KCTMO have said: "The events of last night and early this morning are a tragedy. KCTMO, in conjunction with RBKC and others, is doing everything it can to assist the residents of Grenfell Tower and those affected by the tragedy. This will remain our immediate concern and focus.
"It is too early to speculate what caused the fire and contributed to its spread. We will co-operate fully with all the relevant authorities in order to ascertain the cause of this tragedy.
"We are aware that concerns have been raised historically by residents. We always take all concerns seriously and these will form part of our forthcoming investigations. While these investigations continue with our co-operation, our core priority at the moment is our residents."