Building's technical editor considers what is known about the building and the recent upgrade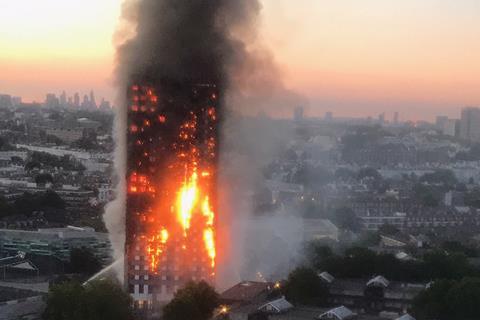 Grenfell Tower fire
Grenfell tower was constructed in the 1970s. It features four storeys of community and office use at the base of the building with 20 storeys of flats above.
The building features an in-situ concrete core and concrete escape stair and lifts in the centre. The floors are in-situ concrete with the flats arranged around the core. This is a straightforward and standard form of construction that is widely used today.
The building has been upgraded with a new heating and cladding system. The cladding features spandrel panels at cill height with alternating windows and panels above. The windows are a polyester-powder coated aluminium tilt/turn design. The spandrel panels are a rainscreen cassette system fixed to the building. Drawings suggest the cassettes feature a timber coloured backing board with insulation - possibly a foam type material - fixed to this panel. There is a ventilated cavity in front of the insulation which the drawings suggest is approximately 50mm deep.
This cavity features horizontal cavity barriers to prevent the spread of fire. The building is faced with aluminum rainscreen panels. A Reynobond aluminium composite panel was specified. Reynobond aluminum composite panels feature two aluminum sheets sandwiching a core material which gives the panel its rigidity.
According to Reynobond's website the panels are available in two variants, one with a polyethylene core, which is a type of plastic and a version with a fire retardant mineral core said to provide higher resistance to fire.
Thomas Lane, technical editor, Building