Changes in resi sector may force Spire London developer to redraw plans for 67-storey building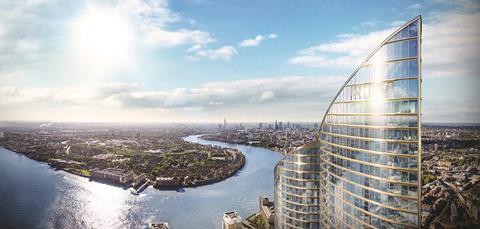 The developer behind the tallest tower being planned in London's Docklands has admitted it may be forced to go back to the drawing board in order to get the scheme off the ground.
The 67-storey tower was also set to be a landmark for Aecom, given it is the US company's first job as a main contractor in the UK.
But Chinese firm Greenland Group put the brakes on the scheme – called Spire London and planned for West India Quay near Canary Wharf – back in the spring and this week told Building it is still working out what to do next.
A Greenland spokesperson said: "The residential sector in London has changed significantly since Spire London was conceived in 2014. The purpose of the review has been to ensure that our development reflects those changes and remains at the forefront of the market."
Designed by architect HOK, the scheme includes more than 900 homes – with 861 in the tower itself and a further 60 at a nearby site – along with public realm, shops and roof terraces.
But the spokesperson said Greenland was talking to local council Tower Hamlets about rejigging the development, adding: "We are now assessing these potential changes in further detail to determine whether, on balance, it would be preferable to introduce them to the scheme or to proceed with it in its current form."
He added: "At this stage, no decisions have been made."
The review was ordered after the first phase of pre-construction work was carried out, with Cantillon tearing down a building at the site and Bachy Soletanche undertaking piling works.
The spokesperson added: "The completion of these works provided an opportunity for us to assess the project before proceeding with the next step."
Aecom was appointed to the deal in May 2017, pipping a number of traditional London tower builders, including Multiplex, to the job.
The US giant and Greenland signed a memorandum of understanding in June to explore joint opportunities in China and the rest of the world. Among the schemes the pair have already worked on is a $1.2bn (£948m) mixed-use project called Metropolis in Los Angeles.