Call comes as union requests meeting with 13 firms in Qatar including Carillion and Balfour Beatty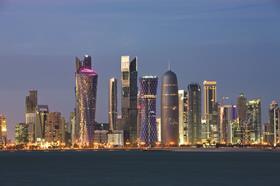 A report by UK-based lobby group Engineers Against Poverty, based on interviews with leading contractors and project managers working in the Gulf state, revealed their unanimous view that its government will "have to play a bigger role in policing and enforcing its own laws and regulations and clamping down on companies that flout the law and abuse the workers".
The report, Improving Employment Standards in Construction in Qatar, was based on interviews with 10 main contractors and five project management consultants from various countries, working in Qatar.
While the interviewees are anonymous, Building understands that one of the main contractors to take part was Carillion, which is working on the huge Heart of Doha city centre regeneration.
The interviewees were responding to a new set of mandatory standards for migrant workers from leading client the Qatar Foundation, which are likely to be rolled out across Qatar, and which place responsibility for compliance not with the client, but with the main contractor.
The firms welcomed the new standards and agreed that main contractors could do more to ensure workers are paid properly, potentially through increased use of electronic bank transfers and paying workers directly when subcontractors fail to do so.
However, they also argued strongly that they could not tackle abuses workers face while being recruited, instead calling for "concerted efforts" from the workers' countries of origin and the Qatari government.
"Contractors argue that policing the actions of agents and sub-agents in labour sending countries is not within their powers," the report said.
The International Trade Union Confederation warned last month that the construction of the Qatar 2022 World Cup could cost the lives of 4,000 workers based on current practices.
The findings emerged as the GMB union wrote to the bosses of 13 UK-based construction and infrastructure firms active in Qatar including Carillion, Balfour Beatty, Mace and Laing O'Rourke, asking for a meeting to discuss how to tackle what it called the "appalling" conditions migrant workers face.
The letter, from the union's international officer Bert Schouwenburg, said that workers were often "treated little better than slaves" and reminded firms of their obligations under guidelines laid down by the Organisation for Economic Co-operation and Development (OECD).
Schouwenburg wrote: "We believe that UK companies have a particular responsibility to ensure that their Qatar-based employees, regardless of their nationality, and their sub-contractors' employees enjoy terms and conditions within globally accepted standards of 'decent work' as laid down by organisations such as the International Labour Organisation (ILO)."