League table of biggest contractors and housebuilders returns after covid hiatus
Firms are expecting no let-up in workloads next year even though construction's ongoing recovery from the pandemic has been clouded in recent days by escalating worries over the new Omicron variant.
As Building's annual top 150 housebuilders and contractors table returns after a covid hiatus, the country's biggest builders are remaining bullish despite the new variant of covid-19 forcing the prime minister to once again introduce restrictions including advice for staff to work from home where possible.
Mace chief executive Mark Reynolds said the firm's turnover next year would be £2.2bn – £500m more than last year's number and not too far off the record £2.35bn it recorded in 2018 – while Kier chief executive Andrew Davies said the country needed to take new covid variants in its stride.
Full Top 150 Contractors & Housebuilders coverage
He told Building: "There's a general realisation that we're going to have to live with covid-19. Now the challenge is how to manage it dynamically within constantly-changing parameters, such as the latest guidance on Plan B. We need to run at it hard, this is a new phase and businesses need momentum."
In a note put out at the start of the month, broker Numis said order books were currently at "very high levels" in a 10-year context and added: "We expect earnings growth across the sector in the next few years from high order books and government infrastructure investment not yet in order books."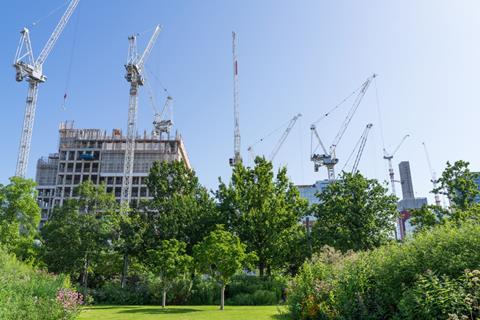 It said: "Looking forward, all indicators point to a strong demand backdrop and we therefore think that trading through 2022 will be positive. In particular, on a medium term view we remain upbeat on the housebuilding, RMI and infrastructure end markets."
Among the growth areas this year have been fit-out with both the big two, ISG and Morgan Sindall, reporting that order books and workloads have boomed – largely down to buoyant office work.
Incoming ISG chief executive Matt Blowers, who takes up his new position at the start of next month, said businesses had proved willing this year to spend large sums of money on upgrading offices with turnover in London alone, where it won a £100m-plus deal to overhaul Barclays' Canary Wharf HQ in September, around the £600m mark this year.
"An office is a shop window into a business's culture," he said. "There is a massive war on talent not just in our sector but across the piece. People are investing significant money on getting their facilities in a great place to retain talent and attract the best."
Morgan Sindall chief executive John Morgan added: "People said the office was dead. It's not. It's changing and covid has accelerated the existing trends rather than changed them."
But firms are expecting rising inflation to dog costs next year with Reynolds expecting materials prices to keep rising in the first quarter.
He said the issue had meant around £100m of revenue it had expected this year had been pushed back into next and added: "Construction inflation has affected clients pushing the button and confirming projects. If a job is above the cost plan, people have to go back and get approval."
In its note, Numis said firms could expect to see the cost of labour increase as the year progressed. "Whether product and materials inflation turn out to be transitory remains to be seen once supply disruptions ease. Regardless, in our view, labour will increasingly become an issue through 2022 and this is a key risk for the sector, both due to emerging wage inflation as well as labour shortages."
And Kier's Davies confirmed: "Inflation is clearly an issue. Labour and materials go hand in hand and it will depend on where you operate and what you're building." Others are warning that it will squeeze cashflows, especially for those firms which have fixed prices early on in the cycle.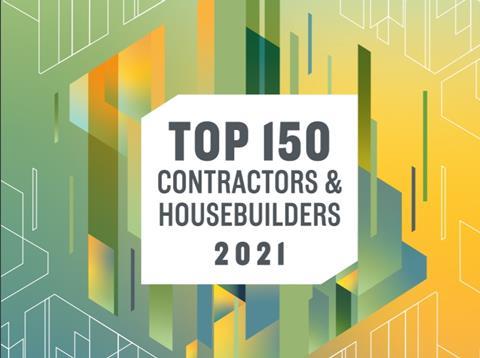 This year's top 150, which is appearing in the final month of 2021 after firms were allowed extra time to file their results because of the pandemic, reveals a familiar-looking top 10 with Balfour Beatty, which last week said it remained on course to hit an underlying operating profit of around £170m this year, top of the pile with the country's biggest housebuilder remaining Barratt.
The biggest privately held firm on the list is Laing O'Rourke which last month announced that chief executive Ray O'Rourke will be succeeded by Seamus French, the chief executive of Anglo American's bulk commodities and other materials division at the end of next summer. French joins the business, which is planning a float in 2024, from the mining giant next month where he will initially be in charge of its Europe arm.
O'Rourke's son, Cathal, will also leave his position as managing director of its £890m turnover Australia division when its current financial year ends next March. He will remain at the group business as a non-executive.