High profile JVs grab a decade of work on the track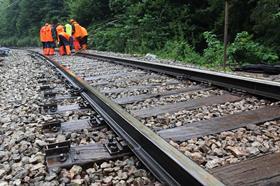 Big-name joint ventures have been appointed to carry out £5bn worth of work on the UK's rail infrastructure over the next decade.
Network Rail divided the country's rail routes into three areas and has now provisionally agreed contractors for the Scotland and South regions.
A JV between Aecom and Colas Rail – a Bouygues subsidiary – will deliver work on track, points, overhead lines and signalling across the South of England.
And in Scotland, a consortium comprised of Arcadis, Arup and Babcock Rail will carry out the equivalent works to the rail system.
The award of the contracts, which last 10 years plus a possible addition of five years, is still subject to contract terms being finalised and agreed.
The bidding process for the final contract – the central region – is ongoing, with a winner due to be named in coming weeks.